During the months of May and June, Roshi Egyoku empowered four of her senior students as Dharma Holders: Myoho, Jitsujo, Kaigen, and Dharma-Joy. They are in their final years of formal study with her. 3 small writings are below and an article by Dharma-Joy can be found here.
Darla Myoho Fjeld
Roshi Egyoku recently explained that a Dharma Holder has entered the final years of her formal Zen studies with her. I flashed to the first time I entered a zendo in 1996 – those 24 years seemed to have flown by – and here I was about to give my first Dharma talk as a Dharma Holder. I have benefitted so much from these years with my teachers. As I prepared my talk, I told myself not to waste people's time with empty words and to do my best to manifest the Dharma in a way that would be helpful to practitioners living through a pandemic. The koan I chose from the Denkoroku of the Thirty-eighth Ancestor Tung-shan (Tozan) had deeply enlivened me, and I hoped it would do the same for others. My aim was to remind myself and everyone listening about the inner place in each of us of not-knowing that provides each of us with a calm, cool center from which to take in a world filled with sorrow, grief, fear, and joy. This is the place from which I hope to continue my close training and practice with Roshi Egyoku now that I am taking on more responsibility as a leader and assistant teacher at the Zen Center.
---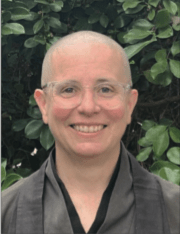 Jitsujo Gauthier
Fayan Points to the Blinds
Once the Great Master Fayan of Qīngliáng (Temple) was about to give a teaching before the midday meal. He gestured with his finger at the blinds, and at that (moment) two monks went to roll them up.
Fayan responded, "One gains, the other loses."
Wumen's Comments: Tell me, who has gained and who has lost? If you obtain the eye (of awakening), you don't try to fathom this in terms of gain and loss.
I chose this koan, because I think it reflects individual, systemic, and spiritual perspectives relevant to today. Each of us understand struggles of gain and loss (i.e. competition, comparison, approval, and condemnation). Our daily life is full of duality. We are all familiar with the roller coaster of gain and loss, winning, and losing. We feel amazing when complimented and life flows in our favor and disheartened when condemned and barriers block the way we hoped things would flow.
Our life is permeated by issues of White Supremacy and Racism. We live within systems of domination and oppression. This can be hard to see. The challenge here is to make this koan alive for you, to shift out of the intellect, let go of the knowing mind, and become intimate with this. Can you become each person and each perspective in this koan? Do you feel resistance to doing this? Resistance can come in forms of anger, lethargy, confusion, and numbness. Can you turn toward resistance and breathe into it?
As a white queer female, I relate to Fayan's failure, such as, failure to accept my own supremacy and pretension, failure to be truly intimate with gain and loss, be a good loser, practice not-knowing, and failure to care about others' perspectives enough to take action. What about you?
---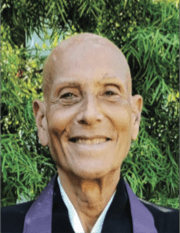 Jonathan Kaigen Levy:
My Dharma Holder presentation and talk came right in the midst of the Covid-19 pandemic. The koan, "Master Ma is Unwell" leapt off the page, it seemed the perfect fit. Ma was both ill and not ill. When asked how his health was, he simply answered, "Sun-faced Buddha, Moon-faced Buddha." So even in a time of a raging pandemic, this is the path we have chosen, this is the journey of our miraculous life. Through thick and thin and sadness and joy, we too can answer, "Sun-faced Buddha, Moon-faced Buddha."
As a temple priest, I will be actively moving into the ceremonial realm, helping to plan, manage, and officiate at services. I am committed to helping support the Sangha any way I can, including assisting in a new start-up ZCLA outreach program that will offer zazen classes via Zoom, reaching out beyond the Center to the wider community. In addition, the time seemed right for me to lead a local home-based sitting group, which had its first meeting just as the pandemic hit. I expect to move this group onto Zoom in the coming week.