Upcoming Events
VIRTUAL DHARMA SCHEDULE (no on-site activities till further notice )
Here are some current ways to practice together online.  We will be adding more ways on an ongoing basis, so stay tuned to this page and our calendar.   Please maintain Zendo decorum for all activities.  If you need to take care of personal needs, please turn off your video screen.  If you are on our email list, you have been sent the links for all streaming events.  If you are not on our email list and wish to participate, please sign-up for our email list at the bottom of our Home page.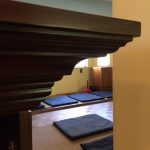 Streaming Morning Zazen from our Zendo: Wednesday – Friday 6:00-7:00 a.m. Followed by morning service
Exploring Your Practice: Wednesdays, 7:00-8:15 p.m. All welcome to drop in online weekly for zazen, a teaching and sharing about practice. No rsvp necessary.
The Zen Center will be in Winter Recess From Saturday, January 1 until Wednesday, January 12 when the office will re-open. Please note January is our Bare Bones Month and our only scheduled activities are on weekends beginning on Saturday, January 15.
Day of Reflection on Martin Luther King, Jr. Saturday, January 15, 9-11:15 a.m.
Led by Sarah McCarron
9-9:15 a.m.         Precept Reading
9:15-9:45             Zazen
9:45-10                 Precept Talk
10:15-11:15         Precept Council
Day of Reflection Transference of Merit

Sangha Forum on Reopening, Saturday, January 22, 1:30 p.m.
Members & interested Sangha are invited to join us to discuss how we can better be of service going forward & the possibility of in-person events.
Evergreen Cemetery visit for Nyogen Senzaki Roshi
Sunday, January 23, 10:30 a.m.
Annual visit to the Evergreen Cemetery gravesite of Zen pioneer Nyogen Senzaki and Japanese-American Buddhist ancestors. We will also visit the mass grave site of the Unclaimed Dead.   For an excellent book of Senzaki Sensei's writings, see Eloquent Silence, Wisdom Publications, 2008. For more information on Nyogen Senzaki, click here.
We will meet directly at Evergreen Cemetery, 204 N Evergreen Ave. Los Angeles, CA 90033. The cemetery requires everyone to wear masks at all times.
All are welcome to join us as we honor our ancestors. We should done by 12:30 p.m.
Saturday morning Zazen, January 29
9:30 Zazen
10:05 Walking Zen
10:15 Zazen
10:50 4 Vows, Bows
11-11:15 Temple Caretaking Practice
Note: Zoom Protocol
1. Develop Focus. Distraction is especially easy during online meetings. Bring the same intentionality to online meetings as you bring to the zendo. Consider ZCLA zoom events as if on the grounds of the Zen Center. Dress appropriately, wear rakusu if received jukai, don't multitask and close other windows on the computer, and consider sitting for a few minutes before talks and events.
2. Practice mindful screen habits. Those zooming in need to be mindful of themselves on screen as their actions can disrupt the zoom session for others. Refrain from walking around with computer or phone, eating on screen, and other actions that may distract others. If you need to eat, take a break, use the bathroom or move around, please turn off your video.
3. Refrain from photos. Please do not screen shot or photograph ZCLA zoom meetings or share on social media.