Upcoming Events
VIRTUAL DHARMA SCHEDULE (no on-site activities till further notice )
Here are some current ways to practice together online.  We will be adding more ways on an ongoing basis, so stay tuned to this page and our calendar.   Please maintain Zendo decorum for all activities.  If you need to take care of personal needs, please turn off your video screen.  If you are on our email list, you have been sent the links for all streaming events.  If you are not on our email list and wish to participate, please sign-up for our email list at the bottom of our Home page.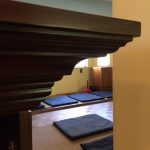 Streaming Morning Zazen from our Zendo: Wednesday – Friday 6:00-7:00 a.m. Followed by morning service
Exploring Your Practice: Wednesdays, 7:00-8:15 p.m. All welcome to drop in online weekly for zazen, a teaching and sharing about practice. No rsvp necessary.
Lotus Sutra Thursday evening Dharma Talks
March 4 – Sensei Daiki Senshin Griffith – Chapter 8 – Parable of the Jewel in the Robe
We will be offering a series of talks on the Lotus Sutra, from 7:00-8:30 p.m. PT   Everyone is welcome to Zoom in.  Free for Members; Donations appreciated from Non-Members.  To see the upcoming schedule of Lotus Sutra Dharma Talks, click here.
Dharma Discussion: Sitting in Racial Discomfort, Tuesday, March 9 6:30-7:45 p.m.
Led by Rev. Jitsujo Gauthier and Kristie Ryonen Valdez-Guillen
White and non-Black POC practitioners' racial karma, conditioning, and experience of racial trauma leaves an imprint on each of us in different ways. Identifying our propensities in the face of this dukkha (suffering) is crucial, if we are committed to the struggle for Black liberation, and decolonization as foundational tenets for all other freedoms.
The Three Pure Precepts of Buddhism and Three Tenets of the Zen Peacemakers invite us into the intimacy of not-knowing, listening deeply and bearing witness to all that arises. Seated meditation helps us learn to breathe into discomfort. How can we begin to face our racial karma and conditioning together? Many of us have not been taught how to turn toward racial discomfort, be in difficult conversations, meet in mutuality, and hold space for what arises between us. How can we use our Zen practice to lean into conflict, trauma, and stay in dialogue with ourselves and the other person? In this dialogue Jitsujo and Ryōnen will unpack whiteness and white passing Latinx privilege, and how the three pure precepts arise for them in practice, and then open the space up for group sharing.
Kristie Ryonen Valdez-Guillen is a queer cisgender Latinx resident in training at the Zen Center of Los Angeles, and an MBSR-trained 12-step sponsor. She is a PhD candidate and educator at UCLA across the Departments of Musicology and Chicanx Studies. She brings her practice of bearing witness with loving-kindness into her classrooms, sponsorship relationships, and the cushion.
Jitsujo T. Gauthier is a queer cisgender white resident in training, priest and Dharma Holder at the Zen Center of Los Angeles, as well as a member of the Zen Peacemakers International. She is also an Assistant Professor and current Chair of the Buddhist Chaplaincy department at University of the West in Los Angeles county. Her practice and pedagogy invite more tenderness, softness, and breath into meditation as well as the classroom.
Beginner's Mind Sesshin, March 11 eve. – March 13
Led by Rev. Darla Myoho Fjeld
Sesshin, "to unify the mind," is an essential practice for the deepening for one's zazen.  Everyone is invited to participate in this two day online Sesshin, which will include a dharma talk, zazen periods, a closing circle, group chants and face-to-face meetings with the teacher. You will have time to eat, walk and do your own samu at home, then link back into the sesshin schedule.  Full time participation is encouraged. If you wish to participate part time, please let Senshin know your precise attendance. Deadline to register is Sunday, March 7.  $40 per day for Members; $60 a day for Non-Members.
Beginner's Mind Sesshin 2021 Schedule
Click here to register and pay for this sesshin.
Day of Reflection on Precept #7: Don't Elevate Yourself and Blame Others — Saturday, March 20, 9-11:15 a.m.
Led by Dylan Banto O'Neal
9-9:15 a.m.         Precept Reading
9:15-9:45             Zazen
9:45-10                 Precept Talk
10:15-11:15         Precept Council
Day of Reflection Transference of Merit
Atonement Ceremony: Thursday, April 1, 7-8:30 p.m.
During this ceremony of renewing the vows and Precepts, we each have an opportunity to bear witness to our conduct in thoughts, words, and actions. Everyone is welcome. Those who have received the Precepts are asked to attend on a regular basis.
Note: Zoom Protocol
1. Develop Focus. Distraction is especially easy during online meetings. Bring the same intentionality to online meetings as you bring to the zendo. Consider ZCLA zoom events as if on the grounds of the Zen Center. Dress appropriately, wear rakusu if received jukai, don't multitask and close other windows on the computer, and consider sitting for a few minutes before talks and events.
2. Practice mindful screen habits. Those zooming in need to be mindful of themselves on screen as their actions can disrupt the zoom session for others. Refrain from walking around with computer or phone, eating on screen, and other actions that may distract others. If you need to eat, take a break, use the bathroom or move around, please turn off your video.
3. Refrain from photos. Please do not screen shot or photograph ZCLA zoom meetings or share on social media.