Upcoming Events
VIRTUAL DHARMA SCHEDULE (no on-site activities till further notice )
Here are some current ways to practice together online.  We will be adding more ways on an ongoing basis, so stay tuned to this page and our calendar.   Please maintain Zendo decorum for all activities.  If you need to take care of personal needs, please turn off your video screen.  If you are on our email list, you have been sent the links for all streaming events.  If you are not on our email list and wish to participate, please email programsteward@zcla.org.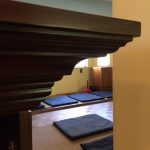 Streaming Morning Zazen from our Zendo: Monday – Friday 6:00-7:00 a.m.
Streaming End Your Day Zazen Every Wednesday, 7:30-8:00 p.m.: Zazen, Four Vows, Bows, Evening Gatha
Service Commemorating the 75th Anniversary of the Dropping of the Atomic Bombs — Thursday, August 6, 7-7:30 p.m.
Officiated by Roshi Egyoku

Dharma Talk by Sensei Kizan Shogen Bloodgood — Thursday, August 6, 7:30-8:30 p.m.

Dharma Chat: "The Three Tenets and Anti-Racist Practice led by Kristie Valdez-Guillon, Thursday, August 13, 7-8:30 p.m.
Day of Reflection on Precept #2 "Don't Steal" Saturday, August 15, 9:00-11:15 a.m.
Led by Diane True-Joy Fazio
9-9:15 a.m.         Precept Reading
9:15-9:45             Zazen
9:45-10                 Precept Talk on Precept #2: Don't Steal
10:15-11:15         Precept Council on Precept #2
Day of Reflection Transference of Merit

Zazenkai, Friday August 21 (eve) – Saturday, August 22
Led by Elizabeth Jiei Cole
Note: Zoom Protocol
1. Develop Focus. Distraction is especially easy during online meetings. Bring the same intentionality to online meetings as you bring to the zendo. Consider ZCLA zoom events as if on the grounds of the Zen Center. Dress appropriately, wear rakusu if received jukai, don't multitask and close other windows on the computer, and consider sitting for a few minutes before talks and events.
2. Practice mindful screen habits. Those zooming in need to be mindful of themselves on screen as their actions can disrupt the zoom session for others. Refain from walking around with computer or phone, eating on screen, and other actions that may distract others. If you need to eat, take a break, use the bathroom or move around, please turn off your video.
3. Refrain from photos. Please do not screen shot or photograph ZCLA zoom meetings or share on social media.