Upcoming Events
VIRTUAL DHARMA SCHEDULE (no on-site activities till further notice )
Here are some current ways to practice together online.  We will be adding more ways on an ongoing basis, so stay tuned to this page and our calendar.   Please maintain Zendo decorum for all activities.  If you need to take care of personal needs, please turn off your video screen.  If you are on our email list, you have been sent the links for all streaming events.  If you are not on our email list and wish to participate, please email programsteward@zcla.org.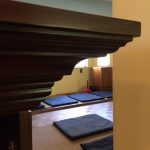 Streaming Morning Zazen from our Zendo: Wednesday – Friday 6:00-7:00 a.m. Followed by morning service
The above will resume on Wed. February 3, 2021.
Please note January is our Bare Bones Month and our only scheduled activities are on weekends beginning Saturday, January 16.
Day of Reflection on Martin Luther King: Saturday, January 16, 9-11:15 a.m.
Led by Conrad Butsugen Romo
9-9:15 a.m.         Precept Reading
9:15-9:45             Zazen
9:45-10                 Precept Talk
10:15-11:15         Precept Council
Day of Reflection Transference of Merit
Guest Speaker Mark Eckhardt, Saturday, January 30, 9-10:30 a.m.
Mark is the creator of One Million Truths (which features personal testimony from Black Americans aimed at creating change), a Zen priest, and CEO of the Common Foundation. He trained with Roshi Yoshin at Santa Monica Zen Center for twelve years and currently lives in Denmark.
Jukai Class Series – 2 Saturdays:  January 30, February 6 — 1:30-3:30 p.m.  Led by Rev. Dharma-Holder Myoho Fjeld
In ths two-class series, we will explore jukai – receiving the Zen Bodhisattva Precepts and vowing to live an awakened life.  We will pay attention to our lineage and ancestors, with special attention to ZCLA's founders, founding family and our teachers' teachers.  We will also look at the practices of Gassho and bowing, and the Verse of the Kesa.  Finally, we will consider the requirements to receive jukai, the rakusu, and the ceremony itself.
If you wish to receive jukai, this is a required class, but our exploration will encompass more than the ceremony, and everyone is welcome to join us.  The pre-requisite is to have taken the precept class at some point before this.  $40 for members; $70 for Non-Members.
Click here to register and pay.
Public Face-to-Face with Roshi Egyoku, Thursday, February 4, 7:00-8:30 p.m.
Roshi will pose a question or theme to the Sangha and we will take turns engaging with her in this Public Face-to-Face with a teacher. A wonderful opportunity to ask a question and learn from others. Everyone welcome.
Lotus Sutra Thursday evening Dharma Talks
We will be offering a series of talks on the Lotus Sutra, from 7:00-8:30 p.m. PT   Everyone is welcome to Zoom in,
February 11 — Roshi Egyoku Nakao – Introduction to the Lotus Sutra
February 25 – Dharma-Holder Rev. Myoho Fjeld – Chapter 25 – Perceiver of the Worlds Sounds
March 4 – Sensei Daiki Senshin Griffith – Chapter 8 – Parable of the Jewel in the Robe
March 18 – Dharma-Holder Rev. Jitsujo Gauthier – Chapter 16 – Parable of the Skilled Physician and His Sick Children
March 25 – Preceptor Mukei Horner (tbd)
April 15 – Dharma-Holder Rev. Dharma-Joy Reichert (tbd)
April 22 – Preceptor Earth-Mirror Corcoran – Chapter 4 – Parable of the Wealthy Man and Poor Son
May 6 – Sensei Kizan Shogen Bloodgood (tbd)
May 13 – Sensei Kyobai Faith-Mind Thoresen (tbd)
Parinirvana Zazenkai led by Dharma-Holder Dharma-Joy Reichert: Friday, February 12 (eve) – Saturday, February 13
Like our online sesshins, this Zazenkai will include zazen, service, face-to-face interviews with a teacher, a dharma talk and time for samu and meals.  It is a great way to deepen your practice.  Newcomers especially welcome.  $25 for Members; $40 for Non-Members.
February Zazenkai Schedule 2021
Click here to register and pay.
Parinirvana Service – Saturday, February 13, 7:30 a.m.
We commemorate Shakyamuni Buddha's passing from this world.  All welcome to zoom in.
Atonement Ceremony: Thursday, February 18, 7-8:30 p.m.
During this ceremony of renewing the vows and Precepts, we each have an opportunity to bear witness to our conduct in thoughts, words, and actions. Everyone is welcome. Those who have received the Precepts are asked to attend on a regular basis.

Sangha Sutra 4 Class Series led by Preceptor Gessho Kumpf
Saturdays, 1:30-3:00 p.m. February 27, March 6, 20, 27
Note: Zoom Protocol
1. Develop Focus. Distraction is especially easy during online meetings. Bring the same intentionality to online meetings as you bring to the zendo. Consider ZCLA zoom events as if on the grounds of the Zen Center. Dress appropriately, wear rakusu if received jukai, don't multitask and close other windows on the computer, and consider sitting for a few minutes before talks and events.
2. Practice mindful screen habits. Those zooming in need to be mindful of themselves on screen as their actions can disrupt the zoom session for others. Refrain from walking around with computer or phone, eating on screen, and other actions that may distract others. If you need to eat, take a break, use the bathroom or move around, please turn off your video.
3. Refrain from photos. Please do not screen shot or photograph ZCLA zoom meetings or share on social media.