Upcoming Events
VIRTUAL DHARMA SCHEDULE (no on-site activities till further notice )
Here are some current ways to practice together online.  We will be adding more ways on an ongoing basis, so stay tuned to this page and our calendar.   Please maintain Zendo decorum for all activities.  If you need to take care of personal needs, please turn off your video screen.  If you are on our email list, you have been sent the links for all streaming events.  If you are not on our email list and wish to participate, please sign-up for our email list at the bottom of our Home page.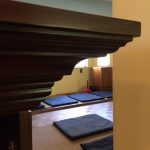 Streaming Morning Zazen from our Zendo: Wednesday – Friday 6:00-7:00 a.m. Followed by morning service
Exploring Your Practice: Wednesdays, 7:00-8:15 p.m. All welcome to drop in online weekly for zazen, a teaching and sharing about practice. No rsvp necessary.
Lotus Sutra Thursday evening Dharma Talk – April 22 – Preceptor Bill Earth-Mirror Corcoran – Chapter 4: Parable of the Wealthy Man and Poor Son 7-8:30 p.m. PT
Everyone is welcome to Zoom in.  Free for Members; Donations appreciated from Non-Members.  To see the upcoming schedule of Lotus Sutra Dharma Talks, click here.

Presentation of New Sensei Darla Myoho Fjeld, Saturday, April 24, 9:00 a.m.
Come join Roshi Shinko in the ancient Buddhist Practice of the Earth Goddess. You will visualize or imagine the Golden Goddess removing all negative, toxic and obstructing energies from your body before filling yourself with loving, grounding and affirming energy. You will also learn to visualize the purification of your heart through fire, wind and water and receive the Earth Goddess empowerments of body, energy and mind. At the end we will be sending the merits of our practice to the healing of the earth element in harmony with the other elements of water, fire, air and space. This practice will help you navigate these difficult times with love, equanimity and confidence.  Participants are encouraged to get her book The Zen Priestess and the Snake: a Woman's Path of Transformation and Healing Through Rediscovery of the Great Mother Tradition.  $15 for Members; $25 for Non-Members
Click here, to register and pay for this workshop
The Zen Center is on Spring Recess from Monday, April 26 – Tuesday, May 4
Day of Reflection on Precept #7: Don't Elevate Yourself & Blame Others — Saturday, May 22, 9-11:15 a.m.
Led by Jane Radiant-Joy Chen
9-9:15 a.m.         Precept Reading
9:15-9:45             Zazen
9:45-10                 Precept Talk
10:15-11:15         Precept Council
Day of Reflection Transference of Merit
Note: Zoom Protocol
1. Develop Focus. Distraction is especially easy during online meetings. Bring the same intentionality to online meetings as you bring to the zendo. Consider ZCLA zoom events as if on the grounds of the Zen Center. Dress appropriately, wear rakusu if received jukai, don't multitask and close other windows on the computer, and consider sitting for a few minutes before talks and events.
2. Practice mindful screen habits. Those zooming in need to be mindful of themselves on screen as their actions can disrupt the zoom session for others. Refrain from walking around with computer or phone, eating on screen, and other actions that may distract others. If you need to eat, take a break, use the bathroom or move around, please turn off your video.
3. Refrain from photos. Please do not screen shot or photograph ZCLA zoom meetings or share on social media.