Upcoming Events
VIRTUAL DHARMA SCHEDULE (no on-site activities till further notice )
Here are some current ways to practice together online.  We will be adding more ways on an ongoing basis, so stay tuned to this page and our calendar.   Please maintain Zendo decorum for all activities.  If you need to take care of personal needs, please turn off your video screen.  If you are on our email list, you have been sent the links for all streaming events.  If you are not on our email list and wish to participate, please sign-up for our email list at the bottom of our Home page.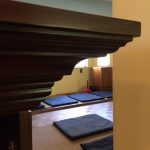 Streaming Morning Zazen from our Zendo: Wednesday – Friday 6:00-7:00 a.m. Followed by morning service
Exploring Your Practice: Wednesdays, 7:00-8:15 p.m. All welcome to drop in online weekly for zazen, a teaching and sharing about practice. No rsvp necessary.
Fall Personal Practice Talk Series
During Personal Practice talks, the speaker introduces their spiritual journey to the Sangha, focusing on the themes that have run through their lives and the insights, people, and events that have deepened and transformed their understanding of life itself. Everyone is encouraged to take this opportunity to get to know your fellow sangha member in a deeper way.  No charge.
Thursday, September 16, 7-8 p.m. – Personal Practice Talk by Dan Ejo Wilner
Thursday, September 23, 7-8 p.m. – Personal Practice Talk by Sandy Seiju Goodenough
Thursday, September 30, 7-8 p.m. – Personal Practice Talk by Peggy Faith-Moon Gallaher
Day of Reflection on Precept #5: Not Being Deluded — Saturday, September 18, 9-11:15 a.m.
Led by Bill Tetsui Press
9-9:15 a.m.         Precept Reading
9:15-9:45             Zazen
9:45-10                 Precept Talk
10:15-11:15         Precept Council
Day of Reflection Transference of Merit
Living the Life of the Buddha: Writing the Precepts on our Hearts  A 6-class series led by Sensei  Darla Myoho Fjeld. Saturdays 1:30 – 3:30 p.m. (PT); September 25; October 2, 9, 23, 30; November 6
This fall we are offering an online class series on the Zen Bodhisattva Precepts. There will be 6 classes at 2 hours each (with perhaps a short personal-needs break in the middle).  Everyone is invited to attend.  Beginners are especially encouraged.  $150 for Members; $240 for Non-Members.
For more information and to register, click here
Practice Period Entering & Head Trainee Entering & Exiting Ceremony, Saturday, October 2, 9:00 a.m.
Join us online as we open the Practice Period with an Entering Ceremony. Shuso Christina Tchoren Carvalho and Head Trainee Nem Etsugen Bajra will do the Exiting Ceremony and incoming Head Trainee Reeb Kaizen Venners will do his Entering Ceremony.
Members Garden Zazen, Sunday, October 3, 7-11 a.m. by rsvp only.
Golden Wind Sesshin, Sunday, October 10 (eve) – Sunday, October 17 (morning)
Led by Roshi Egyoku, Sensei Kizan Shogen & Sensei Daiki Senshin
Everyone is invited to participate in this six and a half day online sesshin. The sesshin will include dharma talks, zazen periods, reading of Dogen's Genjokoan, services and face-to-face opportunities with the teachers. You will have time to eat, walk and do your own samu (work) at home, then link back into the sesshin schedule.  This particular sesshin will culminate in the Head Trainee Hossen (Dharma Combat) of Nem Etsugen Bajra.  $40 per day for Members; $65 a day for Non-Members.
Click here for more information and to register
Atonement Ceremony: Thursday, October 21, 7-8:30 p.m.
During this ceremony of renewing the vows and Precepts, we each have an opportunity to bear witness to our conduct in thoughts, words, and actions. Everyone is welcome. Those who have received the Precepts are asked to attend on a regular basis.
Note: Zoom Protocol
1. Develop Focus. Distraction is especially easy during online meetings. Bring the same intentionality to online meetings as you bring to the zendo. Consider ZCLA zoom events as if on the grounds of the Zen Center. Dress appropriately, wear rakusu if received jukai, don't multitask and close other windows on the computer, and consider sitting for a few minutes before talks and events.
2. Practice mindful screen habits. Those zooming in need to be mindful of themselves on screen as their actions can disrupt the zoom session for others. Refrain from walking around with computer or phone, eating on screen, and other actions that may distract others. If you need to eat, take a break, use the bathroom or move around, please turn off your video.
3. Refrain from photos. Please do not screen shot or photograph ZCLA zoom meetings or share on social media.