Upcoming Events
VIRTUAL DHARMA SCHEDULE (no on-site activities till further notice )
Here are some current ways to practice together online.  We will be adding more ways on an ongoing basis, so stay tuned to this page and our calendar.   Please maintain Zendo decorum for all activities.  If you need to take care of personal needs, please turn off your video screen.  If you are on our email list, you have been sent the links for all streaming events.  If you are not on our email list and wish to participate, please sign-up for our email list at the bottom of our Home page.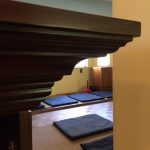 Streaming Morning Zazen from our Zendo: Wednesday – Friday 6:00-7:00 a.m. Followed by morning service
Exploring Your Practice: Wednesdays, 7:00-8:15 p.m. All welcome to drop in online weekly for zazen, a teaching and sharing about practice. No rsvp necessary.
Gate of Sweet Nectar: A Ritual for Justice  – Thursday, May 13, 9-10:30 a.m. led by Rev. Jitsujo Gauthier & Rev. Dr. Victor Gabriel 
Sangha Forum – Thursday, May 13, 7-8:30 p.m.
Led by Sensei Darla Myoho Fjeld
Our coming together will offer a forum for everyone to learn about the rich and varied working and teaching life of the Center. Here's an opportunity for Sangha members to share with each other. Part town hall meeting, part feedback loop, come zoom in and join us as we practice with not-knowing to co-create this gathering of the Sangha.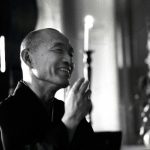 Maezumi Roshi Memorial – Saturday, May 15, 9:00 a.m.
We will have a special service commemorating the 26th Anniversary of the death of our founding abbot, Taizan Maezumi Roshi.
Three Tenet Mala Instruction Class, Saturday, May 15, 10:30-11:30 a.m. led by Roshi Egyoku
Open to all whether you have a Three Tenet Mala or not.  No RSVP necessary.  To get the zoom link, sign-up to get on our email list.  Click this link for the instruction: T3TMala_Instruction_Rev_522021
Lotus Sutra Thursday evening Dharma Talk –  Thursday, May 20 – Sensei Kyobai Faith-Mind – Chapter 15 – Springing up from the Earth 7-8:30 p.m. PT
Everyone is welcome to Zoom in.  Free for Members; Donations appreciated from Non-Members.  To see the upcoming schedule of Lotus Sutra Dharma Talks, click here.
Day of Reflection on Precept #7: Don't Elevate Yourself & Blame Others — Saturday, May 22, 9-11:15 a.m.
Led by Jane Radiant-Joy Chen
9-9:15 a.m.         Precept Reading
9:15-9:45             Zazen
9:45-10                 Precept Talk
10:15-11:15         Precept Council
Day of Reflection Transference of Merit
Growing A Lotus Online Sesshin: Wednesday, May 26 (eve) through Sunday, May 30 (noon)
Led by Roshi Egyoku and Sensei Kizan Shogen
This sesshin will include dharma talks on the Lotus Sutra, zazen periods, service, a closing circle, and face-to-face opportunities with Roshi Egyoku and Sensei Shogen for registered participants. You will have time to eat, walk and do your own samu at home, then link back into the sesshin schedule.  $140 Full-time for members; $210 Full-time for Non-Members; ($40 per day for Members; $60 per day for Non-Members).
For more information and to register.
Note: Zoom Protocol
1. Develop Focus. Distraction is especially easy during online meetings. Bring the same intentionality to online meetings as you bring to the zendo. Consider ZCLA zoom events as if on the grounds of the Zen Center. Dress appropriately, wear rakusu if received jukai, don't multitask and close other windows on the computer, and consider sitting for a few minutes before talks and events.
2. Practice mindful screen habits. Those zooming in need to be mindful of themselves on screen as their actions can disrupt the zoom session for others. Refrain from walking around with computer or phone, eating on screen, and other actions that may distract others. If you need to eat, take a break, use the bathroom or move around, please turn off your video.
3. Refrain from photos. Please do not screen shot or photograph ZCLA zoom meetings or share on social media.