Upcoming Events
VIRTUAL DHARMA SCHEDULE (no on-site activities till further notice )
Here are some current ways to practice together online.  We will be adding more ways on an ongoing basis, so stay tuned to this page and our calendar.   Please maintain Zendo decorum for all activities.  If you need to take care of personal needs, please turn off your video screen.  If you are on our email list, you have been sent the links for all streaming events.  If you are not on our email list and wish to participate, please sign-up for our email list at the bottom of our Home page.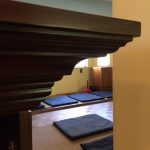 Streaming Morning Zazen from our Zendo: Wednesday – Friday 6:00-7:00 a.m. Followed by morning service
Exploring Your Practice: Wednesdays, 7:00-8:15 p.m. All welcome to drop in online weekly for zazen, a teaching and sharing about practice. No rsvp necessary.
Living-Serving:  Bodhisattva Archetypes, Tuesdays, 7– 8:30 p.m. October 26, November 2, 16, 30 and December 14
Led by Rev. Tom Dharma-Joy Reichert
In this five-class series, we will dive into a personal investigation of Bodhisattva practice, Bodhisattva energies, and Bodhisattva archetypes.  We will address some basic historical material on the Mahayana movement and the rise of the bodhisattva as a path of awakening; consider various Bodhisattva ideals and archetypes and how to connect to them in our own lives; and examine the 4 Bodhisattva Vows and 16 Bodhisattva Precepts within the archetypal frameworks.  We will use Taigen Daniel Leighton's classic book Faces of Compassion: Bodhisattva Archetypes as our study source.  $100 for Series (Members); $125 for Series (Non-Members)
Deadline to register: Sunday, October 24.
For more information and to register: click here
Dharma-Holder Presentation & Exchange by George Mukei Horner, October 28, 7-8:30 p.m.
Preceptor Mukei will be named as a Dharma-Holder by Roshi Egyoiku. This acknowledges him as an assistant Zen teacher who is entering the final stages of his formal training with Roshi. As part of this rite of passage, Mukei will give a talk and invite all of you to a Dharma exchange (much more informal than Dharma Combat in the Shuso Hossen.)  These passages are a joyful and important time for our Sangha and the continuation of our Lineage even in this time of quarantine.  Everyone is invited to Zoom in.
Day of Dead: Members Sangha Event in the Garden, Sunday, October 31, 9:00 a.m. – 1:30 p.m.
Schedule
Gates open 8:45 a.m.
Bring pictures of beloved dead ones and place them on the altar. Also bring a list of those names you want to remember in the Service.
9:00-9:50 a.m. Open Zazen in Garden (staggered times in Zendo)
10:00 a.m. Gate of Sweet Nectar/Day of Dead Service
11:00 a.m. Meal Gatha; Pizza & Sangha Gathering
1:30 p.m. Breakdown & restore
Vaccinated Members RSVP here 
Jukai Ceremony for Receiving the Precepts, Saturday, November 6, 10:30 a.m.
Two beloved Sangha members will be receiving Jukai. Everyone is encouraged to support and witness online this important Sangha rite of passage for Ryan Schneider and Maggie Rowe.
Gratitude Zazenkai led by Preceptor Lorraine Gessho Kumpf: Friday, November 12 (eve) – Saturday, November 13
Like our online sesshins, this Zazenkai will include zazen, service, face-to-face interviews with a teacher, a dharma talk and time for samu and meals. It is a great way to deepen your practice before the Thanksgiving holiday. Newcomers especially welcome. $25 for Members; $40 for Non-Members. Deadline to register: Wednesday, November 10.  
Day of Reflection on Precept #8 Don't Be Stingy — Saturday, November 20, 9-11:15 a.m.
Led by Diane Enju Katz
9-9:15 a.m.         Precept Reading
9:15-9:45             Zazen
9:45-10                 Precept Talk
10:15-11:15         Precept Council
Day of Reflection Transference of Merit
Note: Zoom Protocol
1. Develop Focus. Distraction is especially easy during online meetings. Bring the same intentionality to online meetings as you bring to the zendo. Consider ZCLA zoom events as if on the grounds of the Zen Center. Dress appropriately, wear rakusu if received jukai, don't multitask and close other windows on the computer, and consider sitting for a few minutes before talks and events.
2. Practice mindful screen habits. Those zooming in need to be mindful of themselves on screen as their actions can disrupt the zoom session for others. Refrain from walking around with computer or phone, eating on screen, and other actions that may distract others. If you need to eat, take a break, use the bathroom or move around, please turn off your video.
3. Refrain from photos. Please do not screen shot or photograph ZCLA zoom meetings or share on social media.