The Hidden Lamp Study Group
Stewarded by Sensei Katherine Senshin Griffith & Sensei Tom Dharma-Joy Reichert

Thursdays, 7-8:00 p.m.
On Zoom 
NOTE: Participants do not need to register, all may join via Zoom.
---
CLASS INFO
We are beginning a long-term study of "The Hidden Lamp: Stories from 25 Centuries of Awakened Women," a collection of 100 koans centered on the experiences of women practitioners, which are accompanied by 100 commentaries by contemporary women teachers. This will be a study group where we activate the awakened wisdom of the whole. Koan experience is not required; all are welcome to join. We will meet via Zoom every other Thursday evening, calendar permitting, and explore a new koan each week.  No sign-up needed.  The paper edition of the book is no longer in print, however, you can purchase an electronic copy (Kindle, Apple Books, etc.)
Meeting ID: 830 6551 2700
Passcode: Chiyono
---
UPCOMING DATES
February 2 (Chapter 14: Ganji's Family) & February 16 (Chapter 15: The Woman Lets It Be)
March 3 (Chapter 16: Awakening While Cooking) ; March 16 (Chapter 17: The Woman in Samadhi) & March 30 (Chapter 18: Yu Uses Her Full Strength)
April 13 (Chapter 19: The Flower Hall on Buddha's Birthday)
May 4 (Chapter 20: Sonin's Shadeless Tree) & May 18 (Chapter 21: Linji Meets the Old Woman Driving the Ox)
June 8 (Chapter 22: Jiyu-Kennett's Not Bigger, Not Smaller) & June 22 (Chapter 23: Jiaoan's Sand in the Eye)
July 13 (Chapter 24: Punnika and the Brahman's Purification)
August 3 (Chapter 25: Nyozen's Pale Moon of Dawn) & August 17 (Chapter 26: The Old Woman Burns Down the Hermitage)
September 7 (Chapter(Chapter 27: Zhaozhou's Deeply Secret Mind)  & September 21 (Chapter 28: Miazong's Dharma Interview)
October 5 (Chapter 29: Zhaozhou and the Old Woman's Obstacles) & October 26 (Chapter 30: Eshun's Deep Thing)
November 9 (Chapter 31: Ryonen Scars Her Face)
December 14 (Chapter 32: Vasumitra Teaches Freedom from Passion)
---
CLASS FEE
This class is provided without a fee, but please consider making a small donation to ZCLA to support our programs.
---
STEWARDS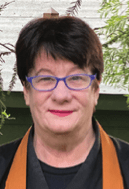 Sensei Senshin started studying Zen in the Rinzai tradition at New York Zendo Shobo-Ji in Manhattan in 1987. At Dai Bosatsu Zendo, she received Jukai in 1994 from Eido Shimano Roshi, with whom she studied until 2000 when she moved to Los Angeles. She became a member of ZCLA in 2001 and began her studies with Roshi Egyoku. During her time in New York, Sensei Senshin also studied with various Tibetan teachers and at Fire Lotus Zendo. She was the Program Steward from 2010 till this year. On the Teacher's Circle since 2016, Sensei Senshin was empowered as Dharma Holder in 2018 and as an independent Zen teacher and Preceptor in 2019. She is a member of the Lay Zen Teachers Association (LZTA), the American Zen Teachers Association (AZTA), the White Plum Asanga (WPA) and the Zen Peacemaker's Order of Disorder. She was installed as Head Teacher on April 10.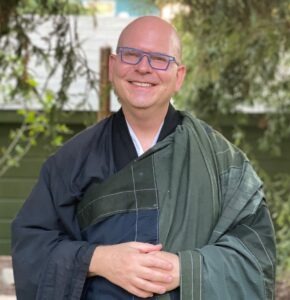 Sensei Dharma-Joy first came to ZCLA in 1999. He received Jukai in 2001, Novice Priest Ordination (Tokudo) in August 2011 and full Priest/Preceptor Empowerment (Denkai) in August 2019, all from Roshi Egyoku. He was named a Dharma-Holder in June 2020, was installed as ZCLA's Head Priest and Preceptor (Jūshoku) in April 2022, and received Dharma Transmission (Denbo) from Roshi Egyoku in December 2022.
---
(If you have any questions, please contact programsteward@zcla.org)