Mountain Seat Ceremony
Sunday, May 21 • 6 am-12:15 pm PST
---
Schedule
6:00-7:00 A.M. – Zazen
7:30-9:00 A.M. – Breakfast
9:00-9:45 A.M. – Open Zazen
10:15-11:45 A.M. – Ascending/Descending Ceremony
12:15 P.M. – Lunch in the Garden
1: 15 P.M Breakdown & restore
---
EVENT INFO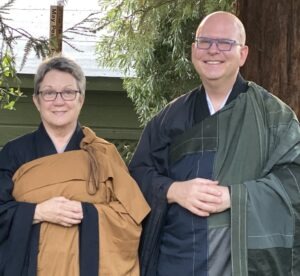 On Sunday, May 21, 2023, Zen Center of Los Angeles Buddha Essence Temple will hold a Mountain Seat Ceremony (J. Shin San Shiki 晉山式), during which Sensei Deb Kyobai Faith-Mind Thoresen, our fourth Abbot, will descend from the Abbot Seat and Sensei Tom Baiten Dharma-Joy Reichert will ascend to become the fifth Abbot.
The Zen Center is honoring Sensei Faith-Mind and Sensei Dharma-Joy with the Love Our Abbots Fund to support the expansion of our membership by letting more people know that Zen Center is here and ready to welcome them into our Sangha. Please be as generous as you can to support this fund!
This is a big deal! Let's show our beloved Sensei Faith-Mind our love for her many years of practice and service for our Sangha stemming back to the 1980's. Let's also show our loving encouragement to our beloved Sensei Dharma-Joy as he ascends as our fifth Abbot to steward ZCLA into the future.
The Mountain Seat Ceremony is an important rite of passage in the life and livelihood of the Mother Temple and marks the transition from one abbot to another in the Maezumi-Glassman-Nakao lineage of the White Plum Asanga. This continuation of our lineage, in the 56th year of ZCLA's existence, reflects a moment of optimism for the stable continuation of Zen Center and of Maezumi Roshi's legacy.
REGISTRATION NOW CLOSED.
Additional information:
No parking onsite. Carpooling & street parking encouraged.
Click here for directions to nearest parking garage.
Click here to volunteer.
---
DONATE
To donate now with a credit/debit card, Click Here
Mail a check payable to ZCLA marked Love Our Abbots Fund 2023 in the note to:
ZCLA, 923 S. Normandie Ave, Los Angeles, CA 90006
Place cash or checks in the donation box located in the Sangha House
---
JOIN VIA ZOOM
https://us02web.zoom.us/j/5929348543?pwd=azM4YVVpS01tZWdsdUF0eitKOEt4dz09
Meeting ID: 592 934 8543
Passcode: Tiger22