Five ZCLA practitioners reflect on what it has been like to continue their Zen practice via Zoom during the pandemic.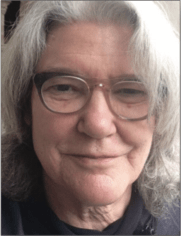 by Peggy Faith-Moon Gallaher
Most important to me is consistency in practice. I can only come to the Zen Center in person, occasionally when it is open. With the online offerings I can take my seat every weekday morning and chant the gatha of atonement with other practitioners. Everyone joining online (from anywhere!) is sitting in the one seat, and that definitely encourages me.
For face to face, instead of the bustling robes and bells and rustling papers, I sit in the energies of my everyday life, which brings the practice home. Practicing the schedule of sesshin together helps to close the gap between the zendo and my everyday life.
During sharing and Q & A, I have gotten to know more sangha members (and their names!). Something that is missing is the informal socializing and networking that occurs in person. (I've gotten to know some very interesting people rooming with them at sesshin. I got a really good job through someone in my precept class. I met my partner of 20 years at a meditation group.) I am mindful that the Zen Center functions through the committed actions of its members. I'm grateful to those who make the online practice possible. I feel a bit like a "consumer" and miss being able to contribute more.
---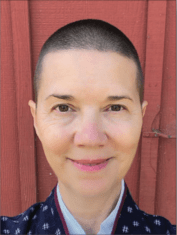 by Geri Meiho Bryan

Analogous to Vimalakirti's sick room, ZCLA expanded without changing size and brought people from neighboring communities closer together. Zoom has become the umbilical cord, connecting us into a virtual zendo and to the zendos of neighboring sanghas. This is how I have experienced ZCLA's online offerings in response to the COVID-19 pandemic.
A seamless transition of one moment sitting in the zendo, the next sitting in my home zendo on Zoom with the rectangles of buddha faces in sesshin, morning service, or sharing in a day of reflection on my laptop screen. My relationship with my home feels more intimate. A place where until recently I felt like I was passing through, now settling into myself, feeling completely at home in my home as I listen to the wild parrots in the Zen Center's garden.
ZCLA's offerings have helped me to start new upayas. Working through online technical difficulties has presented opportunities to test practice. Fun for me was my audio dropping out in mid-sentence while I was trying to share. I never thought about my internet speed or considered if my modem was more than just a modem. What world have I been living in that things just show up and I don't even know how to fully utilize them? I found myself on Google drilling down into the topic of modems to make sure I could efficiently stream while using WiFi. I even dug out an Ethernet cable from the "everything" box as a contingency plan to hardwire my way into the virtual zendo.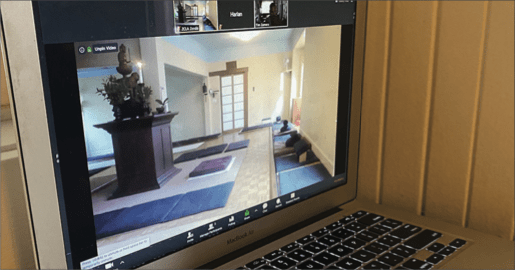 The online offerings have been plentiful, a Sunday morning from my home zendo looks like the following: 9 am zazen w/SLO, 9:45 a.m. ZCLA Beginners Zazen Class, 11:30 a.m. teisho from Roshi Tenshin at Yokoji. Not even on a good day with a helicopter could one accomplish such a dharma schedule.
I offer a humble bow to those who have jumped in to make all of this possible. You have kept the home fires burning while we wait for COVID-19 to tell us when it is safe to practice together in each other's physical presence. 
---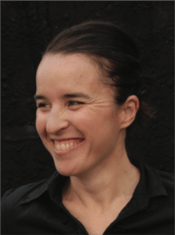 by Gemma Soji Cubero del Barrio
COVID-19 hit me in Spain, while attending a film festival premier in my home country. For the last 20 years, I had wanted to bring my mother to live with me in America so she could see my life here. On March 11th, we flew back to LA, the same night that the travel ban from Europe was announced
To avoid the fear of spreading the virus, we self-quarantined in my ZCLA apartment. The initial 14 days merged into the COVID-19 stay at home order, keeping us more in "locked down." I will never forget the morning I finally sat in the zendo again. The new normal zen robes had emerged: masks, gloves, speaking out loud in the zendo to keep social distancing. Attending the service in the Buddha Hall while staying six feet away felt so cold and bizarre. But suddenly the oddness wore off. I took refuge in this new-normal, became part of this birth in our virtual zendo, and dove into my daily practice. I see the gifts of COVID-19 in my life. In confinement I have gotten to better understand how "not knowing is most intimate." How to fully accept my mother, I have had to close the gap to fully accept myself. The pandemic has also stripped me of the travelling that has been so much a part of my life, allowing me to journey into my inner landscapes.
For years, Not Knowing, Bearing Witness, and Taking Action have been a guide to navigate the uncertainty and the impermanence of my life. The global situation with COVID-19 has made me feel somehow less alone in the world. And the "uncertainty" that I felt so less personal, and now more shared.
COVID-19 has also opened me up to new ways of living this moment-to-moment zen life. The virtual zendo now reaches all of you, far and wide; the redwood trees in our ZCLA garden are now my new portal to zazen. The pandemic has shown me how the Buddha Field expands and how life is indeed inherently generous.
---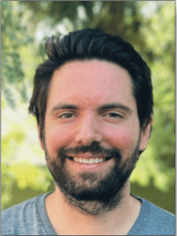 by John Kyogen Rosania
The Zen Center's ability to go online overnight in response to the pandemic is a testament to the deep, nimble practice of our board, abbot, head teacher, senior students, and staff. Their response is an inspiration to my own practice to root the dharma in a concrete, joyful, and experimental responsiveness to our actual life.
Rather than cut me off from my zen practice, the increased online opportunities have helped me integrate my practice deeper into my everyday life. My mind often separates what I do at the Zen Center from what I do for I work, sit, listen to a talk, sit, work, do service, work, no separation to be found!
In these challenging times, I'm grateful that I can lean on the Sangha and Dharma when I need them most by easily accessing a recent talk or sitting period (brought to us by Dharma-Joy's diligent emailing!). I'm continually inspired by the high attendance at talks and events and love seeing the faces of many Sangha members who are often unable to make it regularly to the Zen Center. I'm also inspired by the possibility that when the Center re-opens in the future, we will develop together a hybrid model of in-person and online events that will serve more, increase ongoing connection in our Sangha, and make zen practice and the Dharma accessible to more people. To me, our online practice has been needed long before COVID and I'm very happy that it has arrived!
---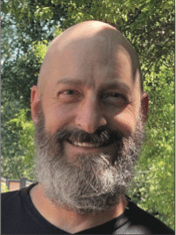 by Glenn Gikai Davis
Practice on Zoom does present some difficulties. The first Zoom sessions had their technical kinks which the Zoom-masters at ZCLA quickly worked out. I still miss the flavor of physically practicing with others at ZCLA, but it has been wonderful to see the Sangha expand through Zoom. Also, it's certainly easy to take the practice lightly on Zoom by turning off the video, not being seen, and allow myself to be pulled away by distractions, but I can make the choice to engage in a strong, focused practice on Zoom. After all, I am responsible!
Diving into Zoom practice, I find I get out of it what I put into it. I approach every Zoom session like I'm in the Zendo. Details matter. I wear appropriate clothing; set up a yoga mat on the hard floor for bowing; light a candle; adjust the lighting; and sit on my cushion in stillness. This approach strengthens my practice. I'm grateful for the wide variety of programs ZCLA offers on Zoom, including sesshin, zazenkai, dharma talks, classes, face-to-face, and council. In fact, I have had more opportunities to practice on Zoom than ever before without geographic limitation or traffic.
The quality of practice on Zoom is amazing. I thought it would be "lighter," but it has been deep and the "Zoom" component has become more transparent. Sesshin on Zoom is just Sesshin. Face-to-face is intimate and powerful, often without feeling any filter. Classes and discussions on Zoom are rich, and I feel the Sangha's energy and appreciate the interaction. Practicing with ZCLA on Zoom is certainly a different flavor than in-person practice at ZCLA, but I love peanut butter ice cream as well as mint chocolate chip! I'm grateful for the practice on Zoom that has arisen from this pandemic and from the vision and hard work of ZCLA.