By Rosa Ando Martinez
As head trainee, I made a commitment to one year of focused study; I began my term in December 2019. At the entering ceremony, the head trainee fan that Roshi Egyoku gave me is inscribed with the words: "This is it!" In so many unexpected ways, the wisdom of these words has helped me catch my breath throughout the unfolding of the Pandemic. Being apart and in quarantine is just one of the ways our practice has radically changed during this challenging time.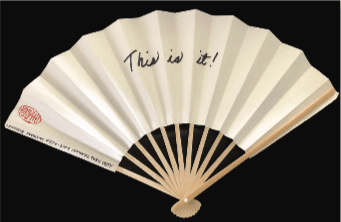 I came to the Zen Center 27 years ago through an article in the L.A. Weekly about "new age" alternative practices in Los Angeles. Out of curiosity, I decided to run through the listings, visiting a site a week. I'd already explored Catholic and Episcopal theology, Yoga Sivananda, est seminars, Self-Realization Fellowship, and many others. Years ago, when Maezumi Roshi asked a group of us what brought us to the Zen Center, I said that when I had reached Z on the list of the magazine article, there was no place else to go. I got laughs, but the truth is, it stuck, and I committed to the practice of Zen.
Walking onto the Zen Center grounds for the first time is an especially preserved memory. It was so peaceful, and at the introduction to meditation class, I learned to sit still a bit longer than I ever had. The memory of the sangha treasures that opened the dharma gate for me at the Zen Center is also enduring. I look around in my memory and see Reiju in the bookstore, straightforward, never mincing words; Charles Duran in truculent political conversations; and Sensei Ensho, whose steadfast sitting in the Zendo was a teaching unto itself.
I've seen the Zen Center grow and flourish throughout my years of practice, consistently rising above the financial and membership challenges. The focus on student and teacher training and a growing pledge to social transformation through service continue to meet the needs of practice during the sequestering and distancing mandates. I admire how many in our community have readily moved forward to transition our traditions and services quickly to online and distanced platforms. Though the Center's gates are temporarily closed to outside foot traffic in response to sequestering in place, I've been able to sit zazen, attend sesshins, services, and other programs.
Being apart and in quarantine is just one of the ways our practice has radically changed during this challenging time.
As head trainee, I had envisioned my term would follow the format of those that went before me. But that was not to be. Home practice now means upgrading my technology skills, learning the iPad, and remembering to mute and unmute. Transitioning has happened alongside doubt and insecurity. Shifting from in-person to online practice has meant sitting with impatience and being more flexible. Everything changes.
My home altar is the center of my home zendo. Though I miss rubbing shoulders with sangha, I am surprised to learn that connecting by way of enhanced encryption feels strangely intimate. I miss the garden, the coffee room chats, and Burt at the bookstore. On the other hand, I'm just a click away from home without battling traffic.
I am deeply grateful for the opportunity of being head trainee, especially during these challenging times. I have to settle deep into my practice again and to feel the anxiety and uncertainty in the air. Mindfulness of body, breath, and mind rise with the practice of just getting up in the morning, just sitting, just breathing behind my mask, just six-foot distancing, just hand washing.
Deep bows to Roshi Egyoku for allowing me the opportunity to fill the head-trainee position and for her guiding words which framed my tenure. Deep bows to the staff, priests, teachers, and residents effectively supporting the center in maintaining our interconnectivity. I appreciate and am grateful for the support I've received from everyone, sangha and family alike.
This is it!
Ando was the Head Trainee for 2020. Her Hossen ceremony (Dharma Combat with the Sangha) was on Sunday, October 18.