The Evolving White Plum Asanga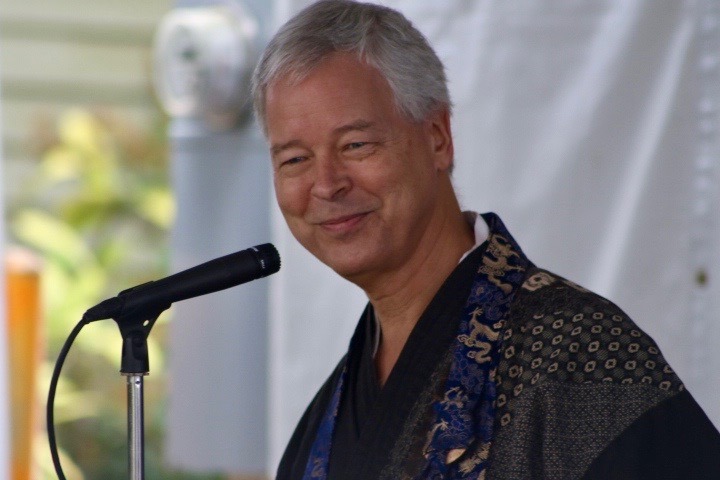 WW: We're talking with Roshi Kipp Ryodo Hawley, head of the Westchester Zen Circle, who was recently elected President
of the Board of the White Plum Asanga. When did you first become interested in Zen?
RYODO: As I was growing up, I was very interested in Taoism. In college my interest in eastern spirituality was further sparked in a class in which we studied the book "The Three Pillars of Zen" by Philip Kapleau. I began seriously sitting zazen at San Francisco Zen Center and the Berkeley Buddhist Priory, moved to Los Angeles in 1979, and joined ZCLA in 1980. In June 1981 I received jukai from Maezumi Roshi, who gave me the dharma name Ryodo.
WW: What does Ryodo mean?
RYODO: It means "Completely Actualized Way." I think Maezumi Roshi was feeling very optimistic when he gave me that name.
WW: When did you become a sensei?
RYODO: In 2007. That title comes with dharma transmission, which makes you an independent Zen teacher. That was from Roshi Egyoku Nakao, and last year she gave me inka shomei, which is the final certification that goes with the title of roshi.
WW: What does it mean to become a roshi?
RYODO: I think of it as No More Excuses.
WW: When did you become president of the White Plum Asanga?
RYODO: My term actually began on President's Day this year. I'm the president of the board, not the overall White Plum school. In the early days the president was the spiritual head of the Asanga. In recent years the group has grown quite large and diverse so there is no longer one person at the head.
Election is by a vote of the White Plum membership, and is for a three-year term. Thanks to Seisen Saunders Roshi, our previous president, we're now able to hold our business meetings online instead of having to get a quorum of members together in one place. Seisen Roshi has done a marvelous job and did a great amount of work that she doesn't always get credit for.
WW: How many Zen Centers belong to the White Plum?
RYODO: The White Plum is an affinity group of teachers of Maezumi Roshi's lineage, so the centers themselves don't belong, individual teachers do. Anyone who's had dharma transmission in Maezumi Roshi's line is eligible to join the White Plum. There are now about 170 members of the White Plum around the world.
WW: How did the White Plum Asanga come into being?
RYODO: It began with Maezumi Roshi and his first two successors, Bernie Tetsugen Glassman Roshi and Genpo Merzel Roshi. They named it after Maezumi Roshi's father, Baian Hakujun Daiosho. Maezumi Roshi chose the term "asanga" to infer "outside (a) the Sangha (sanga)" with the meaning of "taking the widest possible view."
WW: Does every member represent a group or organization?
RYODO: Most do, though the larger centers usually have several associated teachers. For instance, Senseis Faith-Mind Thoreson and Senshin Griffith are associated with Zen Center of Los Angeles. As is Roshi Egyoku, of course, as the head teacher of ZCLA. Since the White Plum is an affinity group of teachers, and explicitly not a certifying or disciplinary body, our mission is to support one another as we support our sanghas. I look at the White Plum as an umbrella of resources for its members. Along with the camaraderie we enjoy at our gatherings and online discussions, we benefit from offerings our members have developed such as courses on healthy boundaries. I would like to see those expanded to more topics relevant to modern spiritual teachers.
In the midst of the global Coronavirus pandemic, we're sharing links to authoritative online information about the virus, ideas for supporting our sanghas in these trying times, and instructions for setting up online meetings through the Zoom meeting system. I see this move to online connections with our sanghas as a major paradigm shift, not just a temporary expedient. When this pandemic has passed and we're once again able to physically sit together, I believe we'll be keeping the virtual zendo open for those who can't be with us in person.
Roshi Ryodo is a teacher at ZCLA and leads Westchester Zen Circle.