Remembering Rabbi Ani Shalom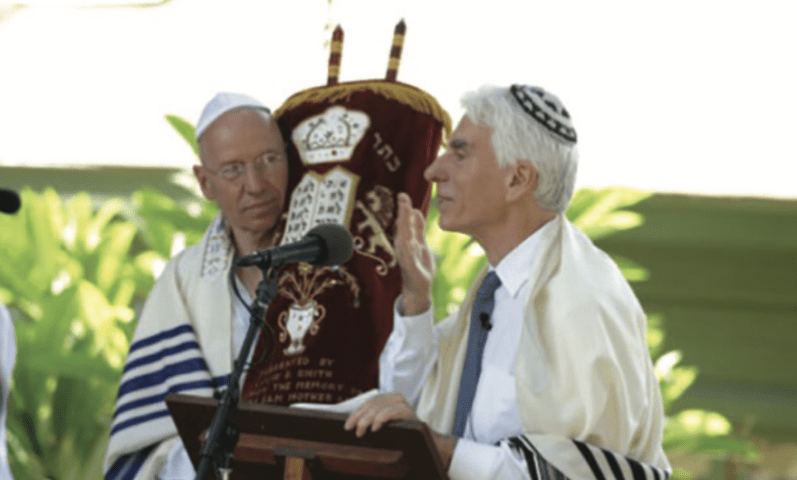 by Wendy Egyoku Nakao
Death reveals the stunning beauty of a life. It's so as I remember Rabbi Don Ani Shalom Singer, who died at the age of 87 on January 11, 2023. He died in his sleep from Covid at his home on the edge of a national pine forest in Carson, New Mexico, which he shared with his beloved wife Virginia. He rejoiced in the natural beauty that surrounded him every time we spoke over the phone: Rabbi Don was a lover of beauty; he himself radiated love and joy. A devotee of the philosopher Martin Buber, Rabbi Don exemplified Buber's words that "the core of Hasidic teachings is the concept of a life of fervor, of exalted joy (Tales of the Hasidim)." Rabbi Don's "exalted joy" was infectious.
When I was asked to return to the Zen Center (ZCLA) by Roshi Bernie in 1997, Rabbi Don offered unwavering friendship and support during those tenuous and tender years. We were both new Zen teachers, although Rabbi Don had been a Rabbi for decades having ordained as a Reform Rabbi from Hebrew Union College. Roshi Bernie had transmitted the Dharma to Rabbi Don in 1995, following long years of the mutual studying of Zen koans and the old Hasidic stories which flowed forth from Rabbi Don as song, dance, and spoken wisdom. Roshi Bernie's vision of interfaith was one in which persons of faith— Catholicism, Judaism, Sufism—uniquely intersected with Zen. Although Rabbi Don was also a transmitted Zen teacher, he remained first and foremost a Reform Rabbi. Still he embodied two powerful rivers, distinct yet both nourishing what Rabbi Don called "the wisdom of the heart."
Rabbi Don and Roshi Bernie were doing Zen-Judaism workshops by the mid 1970s in Los Angeles. During this time, Rabbi Don was a Hillel or campus Rabbi at large, serving over 40 groups. Rabbi Don was fond of recalling that at an East meets Judaism retreat, the East walked in as a Zen guy from Brooklyn. Practicing zazen and doing many sesshin, Rabbi Don came to regard the dynamic practice of zazen as "shalom" or "peace." Many years later, Roshi Bernie would give him the name "Ani Shalom," or "I Am Peace."
Although our paths crossed at the Zen Center in the early days, our friendship did not begin until 1995 when we both found ourselves in Yonkers as students of Roshi Bernie. I recall an amusing incident there. In discussing where I might live in Yonkers, Roshi Bernie mused that my living with the cloistered nuns of the Sacramentine Order would be worth exploring. The nuns had sold their historic building to the Greyston Foundation, and it would be several months before moving day. Roshi Bernie, Rabbi Don, and I went to see the kindly head nun. In my left ear, I heard Roshi Bernie inquire if I could live with the nuns; simultaneously in my right ear, I heard Rabbi Don whisper, "You don't want to do this, Egyoku. You don't want to do this!" I was spared a decision when Roshi Bernie's request was politely and firmly denied.
The first decade after my return, ZCLA was amorphous; it would be many years before the new shape of the Zen Center would emerge. It was during those open and unformed years that I invited Rabbi Don to celebrate Shabbat and the High Holy Days, which he did for eight years. We also conducted several weddings and funerals together. Rabbi Don was the leader of a Jewish contemplative community of friends called Shir Hadash, or "New Song," which held their celebrations and study groups at various locations around town. While the Zen Center struggled to find its footing, we provided a place for the free-floating Shir Hadash community. Although not everyone at the Zen Center was happy about this, we opened ourselves to a "new song." I recall fondly how the Zen Center garden sparkled for days afterwards from the transcendent joy of the High Holy Day events, from the sound of the Shofar, from Rabbi Don's joy.
I had little experience with Judaism before I met Rabbi Don. If "Zen," as Rabbi Don said, "was living in meditation," Judaism, for me, became "living in song, dance, and stories." Throughout the years, I would hear Rabbi Don speak to what he regarded as Judaism's most radical commandment: "You shall love the stranger as yourself, for you were a stranger in Egypt, and you know the heart of the stranger." He referenced this even over cups of tea during his visits, often wearing an aloha shirt. He elaborated that "'to know the heart of the stranger,' means not to make a stranger of yourself, to become intimate with your own heart." I can still hear him reciting a poem he wrote upon the death of his heart brother Sensei Raul Ensho Berge, "It is the work of heart and mind to see to the other in patience and wholeness."
There was an event which Rabbi Don and I planned together that remains for me a highlight of my time at ZCLA. Together we designed a Bearing Witness Day based on the book Shivitti: A Vision by Ka Tzetnik 135633. This is Ka Tzetnik's autobiographical account of the professional treatment regimen with LSD for Concentration Camp Syndrome that he undertook as a survivor of Auschwitz. Rabbi Don invited artists that he knew personally to each read one of the chapters of the book. Between each reading, which was held in the Zendo, a musician played on a keyboard to transition us to the garden, where we had a light snack in silence, and then returned again to the Zendo for the next chapter reading, for the deep listening that pervaded the silent day. This continued for many hours until Ka Tzetnik's soul-searing account was complete and absorbed. Rabbi Singer helped me to understand that some things in life are "beyond the reach of consolation."
Rabbi Don and I attended the early Auschwitz-Berkinau Bearing Witness Retreats in Oswecim, Poland. He continued to attend for many years. During the first retreat in 1996, something remarkable happened which taught me powerful lessons on "exalted joy" and bearing witness. On the opening night of the five-day retreat, Rabbi Don stood before over a hundred of us seated in the large auditorium in the Auschwitz Museum. I don't recall Rabbi Don's words, but before long he began singing and dancing, joy pouring from his being, his soul, his heart. He exuded a joy for which the retreatants were not prepared. Nevertheless, most people were swept up by his energy and began to sing and swirl around the auditorium, filling the aisle and weaving throughout rows of seats. Suddenly, people began to stop and withdraw; people became upset and angry that we were singing and dancing at Auschwitz. Roshi Bernie called an emergency meeting for the leaders of the retreat. What happened then has been one of my most important spiritual lessons. We sat in a circle; people directed their anger at Bernie. One man, incensed at what had transpired, leaned over me and shouted at Bernie: "This is wrong! You have to fix this!" Roshi Bernie looked directly at him and quietly and firmly said, "I am not here to fix anything. I am here to bear witness." The force of that exchange—perhaps because I was sitting between them— continues to resonate for me as the moment I learned how to bear witness and that, it was indeed possible, to raise a heart of joy in the darkest places.
One year long ago, Rabbi Don and I both attended a Street Retreat in Manhattan together during Passover week. On the first night, the group settled on a small hill in Central Park for the night. The bitterly cold wind was relentless. As daylight appeared, many participants had dispersed and Rabbi Don was nowhere to be found. We spent the day begging on the streets with no sign of Rabbi Don. Around 4:00 in the afternoon, we gathered at a designated park. By this time, Roshi Bernie had clearly had it with the missing Rabbi, who was to lead the Passover celebration. "He is probably hanging out with a friend in a condo somewhere," Roshi Bernie fumed. Rabbi Don finally appeared. "Where have you been?" demanded Roshi Bernie. Rabbi Don, clearly surprised at Roshi Bernie's demeanor, responded, as though it was the most obvious thing, "I've been begging for our Passover meal." We all watched as he unloaded his backpack with Passover food begged from Manhattan delis and groceries. Throughout the years, I would often be reminded of the strong bones undergirding Rabbi Don's apparent absent-mindedness and freewheeling energies. The Passover meal was very special indeed.
I especially loved that Rabbi Don was not a linear person. Rather, he swirled. To quote again a line from the poem he wrote upon the death of Sensei Ensho, he "… did not always talk like others talk, sometimes it is as if the subject or the object of the sentence has not appeared."
One never knew just where he was going in a formal talk or even in conversation—it was quite mysterious. For a time, he and I read Martin Buber's I and Thou together, as he did with many spiritual friends far and wide. He often spoke about how discovering Buber as a college student opened up new worlds for him. He was so moved by these writings, he told me, that he would go out into his garden and read Buber to the trees. He said, "the trees answered." Yes, I am sure it was so. I will always remember with love, gratitude, and joy the spaces we shared—the spontaneous laughter we shared; the sheer joy of being alive in this broken-hearted world. I will forever hear him singing this ancient Jewish prayer:
Sh'ma Yis-ra-el, A-do-nai E-lo-hei-nu, A-do-nai E-chad. Ba-ruch Shem k'vod mal-chu-to l'o-lam va'ed. (Hear, O Is- rael: Ado-nai is our God, Ado-nai is One. Blessed is God's glorious kingdom forever and ever.)
Thank you for everything, Rabbi Ani Shalom. The Sukkot hut we built for you continues to be used for Buddha's Birthday celebrations at the Zen Center. I am so grateful that the Zen Center's Great Dragon Mountain DNA is suffused with your "exalted joy" whether the practitioners today are aware of it or not. Love and blessings to you, always.
---
Roshi Egyoku is the Senior Dharma teacher at ZCLA.