Reflecting on Tenzoing and Being Tenzoed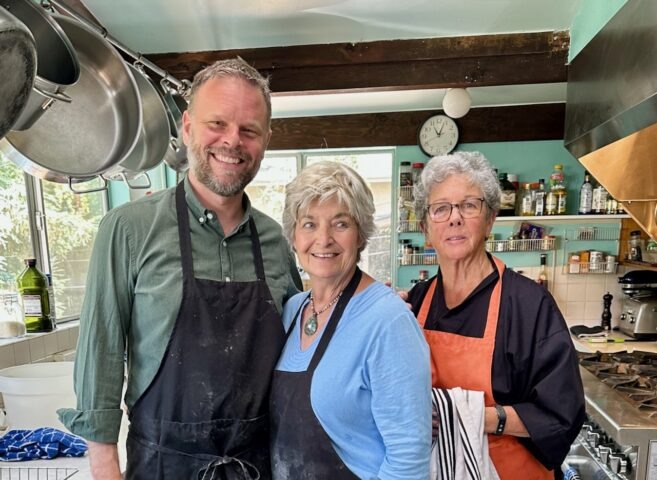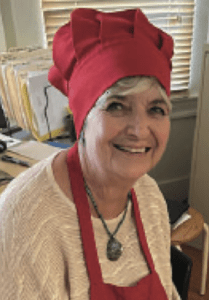 by Betty Jiei Cole
The first time I walked into the Zen Center kitchen I was 30 years old, fresh from an exciting introductory summer with Aitken Roshi in Hawaii. I presented myself to the woman heading the kitchen full of zeal, ready to let her know that I would be ready for anything. I asked, "What do you need me to do?" Without the slightest clue that there was anything extraordinary about her request, she said, "we need 150 eggs separated." I felt like I'd stepped into a world of fairy tales, like Rumpelstiltskin—the demand for the maiden to accomplish the impossible task of spinning a room of straw into gold! Nonetheless, I set to the task in quiet and learned what could be done without commotion or stress. Just doing and being what was needed. That was my first experience with Tenzo Jitsujo (an earlier Jitsujo).
I learned a lot from Jitsujo. She was almost unrufflable in any situation, a great cook. She also loved to bake. The only time I recall an over-the-top choice on her part was at Zen Mountain Center. She decided to bake a particularly elaborate layered chocolate cookie for the end-of-ango tea in the zendo. There we all sat, being served our tea and Grayston Bakery sweets in formal oryoki style. Everyone began eating with great relish—amazing! Delicious! But very soon we slowed in dismay. The cookies were too rich and too big. to keep at very long. A sense of quiet desperation arose. Finally, Maezumi Roshi laughed and said, "It's okay to wrap them up and take them home for later!" That's when I learned the importance of thoroughly imagining the context of the eating!
My whole Zen journey is richly populated by the tenzos I've assisted and the people who have assisted me. Judith, who loved her family's Italian foods and mixed giant batches of pasta with bare well-scrubbed arms buried almost to her elbows. Ensho, before he was Ensho was Raul—a wildly enthusiastic follower of Dogen's Instructions to the Cook, insisted on our making tofu from scratch and finding endless ways of incorporating leftovers into future meals. Broccoli bits eyed with some suspicion in fresh baked bread come to mind. With him I learned fearlessness and good humor as well as innovation. I learned as much about myself as an assistant that summer as that proverbial snake in Buddha's time who learned her side-winding nature by being instructed to go through a straight and narrow log! Accepting direction from someone less experienced than me? Really? More recently my sangha world is full of Taikan and Seiren, Kaizen and Ben, Sotetsu and Jusen and Mats. I've had to learn when circumstances were beyond what I could cope with as planned and accept help gratefully, and so I've gotten to know the generosity of Yudo and Jotai, Myoki and Robert in ways that I would not have known otherwise. Working together in the kitchen for me has been the richest stream for knowing and appreciating my fellow practitioners.
Being the tenzo is a living exercise in extending my imagination and skills to meet the circumstances at hand. For example, creating a menu in Los Angeles allows for much easier variety than in Hawaii or Mountain Center: here we have the blessing of Armenian and Greek markets, Asian markets, budget markets near at hand. If we run short of something, a quick run to a nearby store is not so difficult. Always, the tenzo needs to consider how the food will be eaten, right down to how it will fit on spoons and work with chopsticks, the special needs of those eating and in the particular setting. It invites us to imagine the whole field from where our ingredients come from and cost to how the eating and clean up will go. And of course, it invites us to consider the everyday ordinary: that food becomes new practice, insight, and life right there in the altar of the kitchen.
For me, one of the most obviously helpful insights from our tradition has been the observation that we are endlessly co-creators, co-creating each other and being co-created in our moments of interaction, whether we know it or not. For me it's a realization practice that frequently reminds me not to imagine other or myself as fixed entities, to look under the words to the heart and the layers of another's becoming and my own, to be as kind and patient as possible for someone of my rather high-energy feistiness and hyper-sensitivity to be in the moment. Cooking with the sangha and for the sangha in a Zen kitchen brings this dynamic to the forefront constantly. How the tenzo receives the food and the helpers in the kitchen, how we cope with things and each other when things go amiss, ovens fail, the menu turns out to be too ambitious, or the food doesn't live up to our hopes—all of it teaches and co-creates. I give thanks to all those folks and kitchen ingredients that have co-created me.
With all of its challenges, I love being a tenzo. It calls on my skills as a cook, my love of creating and serving, and now, more and more, as a teacher, passing these on to new people as I get older and see an end in sight for my life in the kitchen. Thank you.
---
A Zen student since 1979, Jiei is a frequent tenzo at ZCLA.