The Five Buddha Families and Relational Dynamics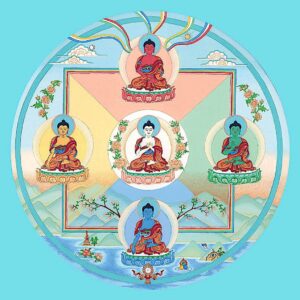 A Five-Class Zoom Series
Led by Dharma-Holder Nem Etsugen Bajra
Tuesdays May 9, 16, 23, 30, & June 6
7:00-8:30 p.m.
Zoom Only
---
CLASS INFO
The Five Buddha Families are known to represent five different types of energies that we can experience. We can experience them in colors, sense perceptions, or feelings. Each of these five energies also has wisdom and neurotic aspects.
In this 5-class series, we will explore the nature of these Five Buddha Families and how we can experience them as energies in the form of colors, sense perceptions, feelings, etc. Once we become familiar with how these energies influence our perceptions, then we will explore the Padma family in more detail and how it can help us understand the self and our relationships with others.
$20 per class for Members; $30 per class for Non-Members
Click here to request Dharma Training Fund.
(If you have questions or concerns, please contact Myoki at programsteward@zcla.org)
---
REGISTRATION & PAYMENT
Dharma-Holder Nem Etsugen Bajra has been a member of ZCLA since 2007. He completed his year as Head Trainee under the guidance of Roshi Egyoku in 2021 and was designated as Dharma Holder by Roshi Ryodo in 2022. He served as a Co-Steward of the ZCLA Tenzo Circle for four years. Etsugen continues to offer "Introduction to Zen Mediation" classes on Sundays and "Explore Your Practice" meetings on Wednesday nights.  He also serves as a member of the ZCLA Board and a member of Buddha Hand Circle (BHC). He is offering bi-weekly meditation classes and quarterly Zazenkai to the business community members. He is currently CEO of Calsoft Systems, an IT company.