An 8-day meditation retreat
(Available via Zoom with some limited on-site participation available)
Friday, December 1 (eve.) – Saturday, December 9

(REGISTER BELOW)
Led by Sensei Katherine Senshin Griffith & Sensei Tom Dharma-Joy Reichert
---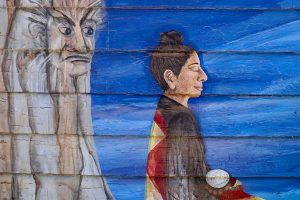 "Sesshin" means "to collect one's heart-mind." This sesshin commemorates the Buddha's enlightenment, traditionally designated as having occurred on Rohatsu ("eighth day, twelfth month") and is considered the most important sesshin of our year. Sesshin is highly recommended for deepening one's practice. The schedule includes zazen, chanting, Face-to-Face meetings with Sensei Dharma-Joy and Sensei Senshin, dharma talks and time for work and rest.
No applications will be accepted after sesshin begins.
Click here to view 2023 schedule.
DEADLINE TO REGISTER IS FRIDAY NOVEMBER 24, NOON
$25 fee will be charged for dropping out or registering past posted deadlines.
Housing is not guaranteed and is on a first come basis.
In-person participation is limited. Please register early to guarantee a seat in the Zendo.
ZCLA does NOT have my personal/emergency/medical information on file: Click here to fill out program application.
Zoom Participants:
DEADLINE TO REGISTER IS FRIDAY, DECEMBER 1 @ 9 a.m.
$25 fee will be charged for dropping out or registering past posted deadlines.
Members: $40/Day; $320 Fulltime
Non-Members: $60/Day; $480 Fulltime
EMAIL TO ALL PARTICIPANTS WILL GO OUT THE MORNING OF FRIDAY, DECEMBER 1.
You can buy your oryoki bowls here: Oryoki Set – Zen Center of Los Angeles (zcla.org).
Oryoki intruction will be offered in-person only on the first night.
Click here to request Dharma Training Fund.
(If you have concerns about payments or any other questions, please contact programsteward@zcla.org)
*Non-members and new members: Attending an in-person "Introduction to Zen Meditation Class" is a prerequisite for attending all onsite activities.
---
REGISTRATION & PAYMENT
Sensei Katherine Senshin Griffith started studying Zen in the Rinzai tradition at New York Zendo Shobo-Ji in Manhattan in 1987. At Dai Bosatsu Zendo, she received Jukai in 1994 from Eido Shimano Roshi, with whom she studied until 2000 when she moved to Los Angeles. She became a member of ZCLA in 2001 and began her studies with Roshi Egyoku. During her time in New York, Sensei Senshin also studied with various Tibetan teachers and at Fire Lotus Zendo. She was the ZCLA Program Steward from 2010 to 2022. On the Teacher's Circle since 2016, Sensei Senshin was empowered as Dharma Holder in 2018 and as an independent Zen Teacher and Preceptor in 2019. She is a member of the Lay Zen Teachers Association (LZTA), the American Zen Teachers Association (AZTA), the White Plum Asanga (WPA) and the Zen Peacemaker's Order of Disorder. She was installed as Head Teacher on April 10, 2022.
Sensei Tom Dharma-Joy Reichert first came to ZCLA in 1999. He received Jukai in 2001, Novice Priest Ordination (Tokudo) in August 2011 and full Priest/Preceptor Empowerment (Denkai) in August 2019, all from Roshi Egyoku. He was named a Dharma-Holder in June 2020, was installed as ZCLA's Head Priest and Preceptor (Jūshoku) in April 2022, received Dharma Transmission (Denbo) from Roshi Egyoku in December 2022 and ascended to become ZCLA's fifth Abbot in May 2023.