An 8-day meditation retreat
(Available via Zoom with some limited on-site participation available)
Friday, December 2 (eve.) – Saturday, October 10

(REGISTER BELOW)
Led by Roshi Egyoku Nakao & Sensei Katherine Senshin Griffith
---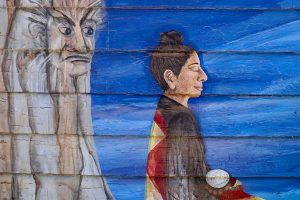 "Sesshin" means "to collect one's heart-mind." This sesshin commemorates the Buddha's enlightenment, traditionally designated as having occurred on Rohatsu ("eighth day, twelfth month") and is considered the most important sesshin of our year. Sesshin is highly recommended for deepening one's practice. The schedule includes zazen, chanting, Face-to-Face meetings with Roshi Egyoku and Sensei Senshin, dharma talks and time for work and rest.
No applications will be accepted after sesshin begins.
All welcome to Zoom in for 8 p.m. Dharma Talks & Teisho:
Meeting ID: 592 934 8543
Passcode: Tiger22
Sunday, December 4: Teisho by Roshi Egyoku
Monday, December 5: Dharma Talk by Sensei Mukei
Tuesday, December 6: Dharma Talk by Sensei Myoho
Thursday, December 8: Dharma Talk by Sensei Senshin
Friday, December 9: Dharma Talk by Sensei Shogen
---
REGISTRATION & PAYMENT
Roshi Egyoku, the Senior Dharma Teacher at ZCLA, now resides on the shore of the Puget Sound estuary. She is Abbot Emeritus (1999-2019) and Emeritus Head Teacher, Head Priest, and Resident Teacher, having held these positions for over twenty years. She trained with her root teacher Ven. Taizan Maezumi Roshi for seventeen years until his death in 1995. She received Dharma Transmission and Inka from Roshi Bernie Glassman and trained with him until his passing in 2018.
Sensei Senshin, installed as Head Teacher on April 10, started studying Zen in the Rinzai tradition at New York Zendo Shobo-Ji in 1987. She received Jukai in 1994 from Eido Shimano Roshi, with whom she studied until 2000 when she moved to Los Angeles. She became a member of ZCLA in 2001 and began her studies with Roshi Egyoku. She was empowered as Dharma Holder in 2018 and as an independent Zen teacher and Preceptor in 2019.