Introduction to Goddess Practices
Saturday, April 24, 1:00 p.m.-4:00 p.m.
Led by Roshi Ilia Shinko Perez
Come join Roshi Shinko in the ancient Buddhist Practice of the Earth Goddess. You will visualize or imagine the Golden Goddess removing all negative, toxic and obstructing energies from your body before filling yourself with loving, grounding and affirming energy. You will also learn to visualize the purification of your heart through fire, wind and water and receive the Earth Goddess empowerments of body, energy and mind. At the end we will be sending the merits of our practice to the healing of the earth element in harmony with the other elements of water, fire, air and space. This practice will help you navigate these difficult times with love, equanimity and confidence.
Participants are encouraged to get her book The Zen Priestess and the Snake: a Woman's Path of Transformation and Healing Through Rediscovery of the Great Mother Tradition. It can be purchased via Amazon or Barnes and Noble, as well as other independent booksellers.
---
WORKSHOP FEE
$15 for Members; $25 for Non-Members
(If you have concerns about payments or any other questions, please contact programsteward@zcla.org)
---
WORKSHOP INSTRUCTOR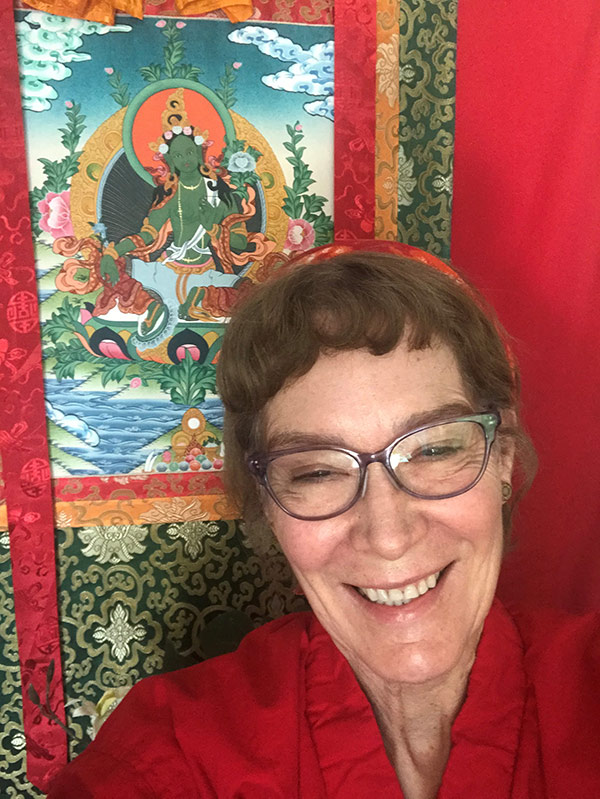 Roshi Ilia Shinko Perez is the Abbess of Maitreya Abbey in Berthoud, Colorado and co-director of Great Mountain Zen Center. She received Dharma Transmission in the White Plum Lineage from Roshi Gerry Shishin Wick in 2004 and the Seal of Approval (Inka) in 2015 from Roshi Wendy Egyoku Nakao Abbot Emeritus of Zen Center of Los Angeles. She has led numerous retreats in both the United States and in Spain and has guided many students in their Zen studies.
Roshi Shinko pursued her Zen training while raising two sons and running her family import business. She holds a Master's Degree in archeology from the Universidad Autonoma of Madrid, Spain, where she grew up. She was a professor of Spanish Literature at Caribbean University College, Puerto Rico, for seven years, has taught Zen Buddhism at Naropa University, Boulder, Colorado, and is co-author of The Great Heart Way: How to Heal Your Life and Find Self-Fulfillment.
A devoted animal lover and horse rider, Roshi Shinko is also an artist, a writer, a gardener, an environmental activist and an animal rescuer. Her art works including her visions of the Sacred Goddess illustrate this book.
---
REGISTER & PAY
Submit your payment using the button below.
---