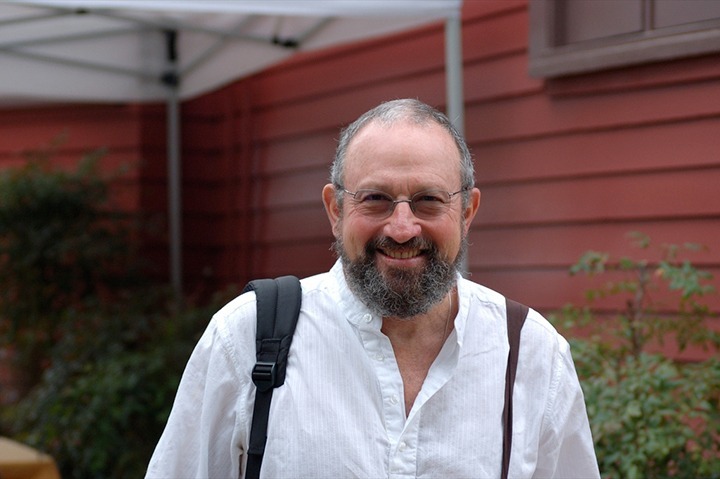 by Roshi Gerry Shishin Wick
I left work early to drive to the campus of University of California San Diego to pick up Joko Beck for the commute to ZCLA. It was a Thursday afternoon in 1972 and we were headed to a three-day sesshin two hours up the freeway. When we pulled onto Normandie Avenue, the han was signaling the beginning of sesshin. We jumped out of the car and scurried to the zendo in time for the first period to begin. We repeated this scene almost monthly for the nextfive years until Joko and I and a large number of our San Diego Sangha members moved to LA to live and practice at the Zen Center.
In 1972, the Zen Center had just bought the Sangha house to add to the former dentist's office that was used as the zendo, which was purchased in 1967. At that time, the zendo was L-shaped. The current southwest corner was a kitchen where meals were prepared before that function was moved to the Sangha house. The altar was in the window alcove on the north end of the western wall.
Most of the sesshins were attended by fewer than 15 people, but that rapidly changed toward the end of the decade as the Zen Center purchased more and more properties. Eventually, we owned four apartment buildings and six houses on the block. The residents numbered close to 100 and for some sesshins, we sat in three locations: the remodeled zendo, the Godo (now the Buddha Hall), and upstairs in the Sangha house.
All of this growth was engineered by Head Monk Bernie Tetsugen Glassman with the encouragement of Maezumi Roshi. At that time, Bernie was a very serious fellow. He ran a very tight zendo while Maezumi Roshi was the warm heart in the dokusan room – mostly, but not always. I shall never forget the first Ango at ZCLA in 1974 and Bernie's Shuso Hossen (Head Monk ceremony). He talked about the koan Kasan's "Knowing How to Beat the Drum" and then took Dharma challenges from the Sangha. While Bernie masterfully responded to all of the questions, I looked over at Maezumi Roshi. He was silently weeping tears of joy.
Recently, Eve Marko, Bernie's widow, came across a letter that Maezumi Roshi had sent to Bernie in the late 1960s. He wrote, "PLEASE DO NOT FORGET [caps are his] that my major concern is to have the handful, even less, truly awakened dharma successors in the United States before I leave this world." His concern was being allayed by Bernie. The only other time I saw Maezumi Roshi weep in the zendo was when he was talking about his mother after she died in the 1980s. Some of you may know that Maezumi Roshi changed his name to honor his mother. His father's family name is Kuroda and his mother's family name is Maezumi.
The Zen Center thrived in the late 1970s and early 1980s. Dozens of serious practitioners, including me, were willing to work on staff in exchange for room, board, $50 per month for living expenses, and all the zazen and Zen training we wanted. We had a number of skilled craftspeople who developed businesses and donated all the profits to the Center. I recall Zen Landscaping, Zen Plumbing, Zen Carpentry, Zen Electrical, Zen Painting, Center Medical Clinic, and Center Publications. We also created the Kuroda Institute for the Study of Buddhism which sponsored academic conferences and published scholarly Buddhist books.
Everything seemed to be going swimmingly. By the mid '80s, Maezumi Roshi had empowered four successors: Bernie, Genpo Merzel, Joko Beck and Chozen Bays. His "major concern" was not so major any more. But major concerns arose in the Sangha as Maezumi Roshi's drinking habits became more of a problem. When it became public that he had been secretly sleeping with some of his female students, the fabric of the Zen Center started to unravel.
The Center did not have guidelines in place for dealing with abuses of power and unethical behavior. At that time, awakened meant to have a clear eye into the mysteries of the Dharma but had nothing to do with insight into one's character flaws and bad habits. This problem was endemic in Buddhist communities all across the country. It was a problem that needed to be addressed and ZCLA, through its retiring abbot, Roshi Egyoku Nakao, has now been addressing it for years.
In the mid-1980's, more than half of ZCLA's members dropped out and ZCLA's cash flow was in dire straits. Those of us who remained put our energies into encouraging Maezumi Roshi to enroll in an addiction recovery program and into restructuring the Center's finances. We also brought in community counselors and therapists to try to heal the deep wounds that had opened up.
We had to sell buildings on half of the block. The grandiosity had vanished. After he had returned from a substance abuse clinic, Maezumi Roshi was mostly contrite and apologetic. He continued to teach but was subdued. He kept his eye on his "major concern" and eventually transmitted the Dharma to a total of 12 successors. Maezumi Roshi's only concern was helping humans to become Buddhas. He had no training in the other part of the formula: helping Buddhas to become fully human. It fell to his successors to develop that part of Zen training.
Maezumi Roshi embodied all of the paradoxes of being an awakened human. He was charming, warm, and a stern taskmaster. He helped me to awaken to the subtleties of the Dharma. For those serious about pursuing the Zen path, he was always available to share his understanding of the Dharma. That is his legacy as first abbot. Before he died, I heard him say, "I cannot develop American Zen. That is up to my successors."
Maezumi Roshi died in 1995 in rather sad circumstances. He was in Japan visiting his brother and after a night of drinking, fell asleep in a hot tub and drowned. Overnight, Bernie Glassman inherited Maezumi Roshi's Dharma realm and became the second Abbot of ZCLA. Just before he died, Maezumi Roshi completed the paperwork for Bernie's Inka which gave him the title of Roshi.
Bernie was busy with his work in New York developing the Greyston Foundation and the Zen Peacemakers. Taking responsibility for ZCLA was more than Bernie could absorb. After a few bumpy attempts to reorganize, Bernie asked Egyoku Nakao to take charge of ZCLA, which she did in 1998. Bernie's contribution as abbot was extending our practice into the wider community through his socially engaged work and street plunges and bearing witness retreats.
Bernie also assumed the presidency of the White Plum Asanga, the lineage of teachers emanating from Maezumi Roshi. Bernie would have been a great president of ZCLA, but due to his other responsibilities, he handed the Center's presidency to Genpo Merzel. After Maezumi Roshi's death, we could have easily fractured into separate, non-interacting units like some other Zen lineages did when their founder died. Even though we went through years of dysfunction, we still loved one another. Our main focus for the next ten years was healing the wounds that afflict the children of an alcoholic parent.
When I first came to ZCLA, there was a plaque inscribed by Maezumi Roshi hanging in the back gaitan of the zendo. In part, it reads:
Those who wish to realize and actualize the Buddha's Way are welcome. Otherwise you better keep out. Let us be harmonious like milk dissolved in water. Temporarily, there are the relationships of guests to master and juniors to seniors; however, eventually all of us will be Buddhas forever. We should maintain the Buddha-Mind, moment after moment.
When I became president of the White Plum Asanga in 2007, we tried to let go of the patriarchal hierarchy and get rid of distinctions of senior and junior, which is tricky when the relationship between some members is teacher-student. We did manage to flatten the hierarchy and create statements of ethical behavior for White Plum teachers. They were a precursor of The Sangha Sutra created by Roshi Egyoku Nakao and her students. A few teachers who could not maintain proper boundaries with their students dropped out and are now independent with no affiliation with our lineage. The current president, Roshi Seisen Saunders, has extended this boundary work and the grievance process. Starting from Maezumi Roshi, there are now more than 180 empowered teachers in the White Plum Asanga.
When Roshi Egyoku took over at ZCLA in 1999, many unresolved issues started to surface from hurts people suffered previously at the hands of teachers and seniors. Just as the teachers were healing their wounds, the first years of Egyoku's abbacy were taken up healing the wounds of the Sangha. The Sangha has the ability to regenerate itself. Through the years of processing the emotional side of practice, new upayas, such as council and the Gate of Sweet Nectar, took hold and have become a regular part of the healing practice.
In many fields, such as science, for new ideas to appear, there has to be a paradigm shift which can only take place when the old guard passes on and the new guard takes charge. The old narrative of the patriarch and the samurai is no longer relevant for our Zen practice. Deep appreciation to Roshi Egyoku for planting the feminine lineage and the collective wisdom of Sangha as firm cornerstones for the continued growth of ZCLA and the American Dharma. Many benedictions to new Abbot Sensei Faith-Mind Thoreson to carry this Dharma forward.
Roshi Shishin is the Abbot of Great Mountain Zen Center in Berthoud, Colorado.