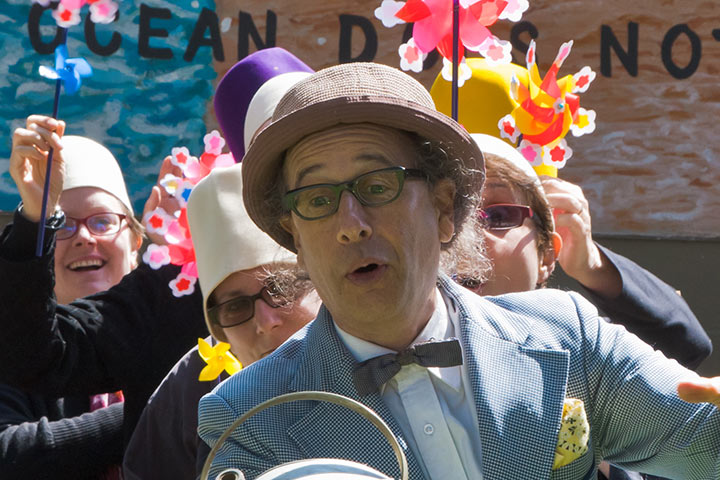 by Moshe YooWho Cohen
"Can we meditate?"
"Would you like to?"
"Oh, yes, Please!"
Celio and his taxi were waiting for me at the Guatemala City airport as planned on a late night in early March. He's there as promised by Ricardo, the Payasos Sin Fronteras (Clowns Without Borders, Spain) logistician who has planned this 12-day project. I am there to teach five workshops and to create a show collaborating with local clowns. My ultimate destination is Escuintla where the Volcan de Fuego erupted last year. Celio whisks me off to the Hotel Panamerica, an old stately downtown hotel, which is certainly a step up from the cement floors I had slept on with Desastrosus Cirkus when we played the Bhutanese refugee camps back in 1997.
Then again, I'm not sure if there even was a hotel in Damak, a town that the Lonely Planet Nepal guidebook only dedicated one paragraph to. Ecuintla, a trucking town on the Transamerican highway, had plenty of hotels, and innumerable long-haul trucks rumbling through town. It too probably only has one paragraph in the guidebooks – there was not a gringo in sight during my four days there.
Clowns Without Borders had been invited a few months after the eruption last June to come and do shows for those displaced by the volcano's lava flow. We also did a number of workshops for the first responders, and for the teachers from those communities. My trip is a follow-up visit as CWB had received numerous requests to return, especially to come back with more workshops. Some of the workshops are to take place in Guatemala City, first with Procuraderia Desrechos Humanos (Provider of Human Rights), and then with local clowns. Then a show-creation day with several of the clowns, after which Celio will drive me to Escuintla. There I will offer several more days of workshops, one for health care workers and one for teachers. After that, the clowns come join me to do two shows in the school, and one for the community. Of the 4,800 people left without homes (and community) by the eruption, 1,200 remain displaced.
It was at ZCLA on Bernie Day that I made a vow to go on another Clowns Without Borders project. Still lodged in my memory were scenes from 2001, when I had knocked a cigar out of Boobysatvah's mouth after he disturbed Smedley'O and YooWho's club passing pattern. That was Bernie's second intervention in the show. In the first, his disruption resulted in being chased by the clowns. – the folks in the Chiapas highlands loved chase scenes. They found it quite hilarious that the payasos (clowns) were chasing the elder gringo. When we "caught" Booby, we would sit him down on a broken fishing stool that would then collapse. The audience reacted with strong laughter to the bearded guy falling on his butt in the dusty earth. So 18 years later, in Bernie's honor, I've brought the chair with me on another CWB project, planning to put it back into action.
It was at ZCLA on Bernie Day that I made a vow to go on another Clowns Without Borders project.
Lucho, Sayda, Noemi and Stef were the team that traveled to Escuintla two months after the volcano erupted. I had a long talk with Sayda before coming down, mostly quizzing her about the workshops that they had offered. I wished to determine what could I possibly offer workshopwise that would prove useful. "We played games (theater games, clown-based play) all day and the participants absolutely loved it" is what Sayda told me. No doubt that the games offered needed opportunities to laugh together, to let off steam due to tensions and trauma resulting from the disaster. The volcano lava flow had run right through a good number of communities, completely decimating their homes, communities, and perhaps more importantly, growing fields and livelihoods.
Offering shows, bringing laughter where it's most needed, is the main thrust of Clowns Without Borders projects. As the organization grows and expands (15-chapter countries, over 100 projects each year), there is also a strong push to involve/collaborate with local artists. Hence the plan to create a show with Miguel Angel, Xexa, and Pablo. Figuring out how to include the fishing stool, its seat all taped up and ready to break underweight, was a delightful problem to solve. We developed a strategy where Xexa, the smallest and goofiest of the clowns, would sit down on it. When we played in the dusty school playground and the stool broke, Xexa ended up on his behind in a contorted position and the kids broke into fits of hilarity. Laughter was plentiful, and so was the dust. Little clouds followed one's footsteps everywhere. The earth was poor, silty and undesirable, clearly they would not be able to grow crops there. The compound that had been designated for the displaced was no substitute for their lost lands.
This certainly contributed to the tensions that were palpable at my first Escuintla workshop with the health care workers. I had encountered similar energies with human rights workers (psychologists and social workers) in Guatemala City. They supported clients facing every kind of abuse situation you might imagine. Listening to them in the opening circle, I had a strong wish to lighten their loads. I had an agenda: Fun and Funny, trauma/stress release exercises, vulnerability affirmations, enjoying frustration, reactivity/response games, and more. Yet, being wise to the Three Tenets, it made sense to come in Not Knowing, and to hear what they wished to work on.
Before sending the talking stick around the circle, I offered a menu of possibilities for the day, and asked what resonated, and what wishes did they have? To my great surprise, relaxation exercises (Feldenkreis-based practices) were high on everyone's list. Hearing that, when the talking stick came back to me, I added yet another possibility: zazen meditation. To my surprise, the response was quite enthusiastic; in fact, all five workshop groups were of the same mind: "Yes, please."
Listening to them in the opening circle, I had a strong wish to lighten their loads.
I had hesitated to mention zazen, figuring that meditation might be a little too far outside their comfort zone. Yet there it was, and so with chings from a small Burmese bell, sitting in straight-backed chairs, we meditated for short seven-to-eight-minute stretches, several times in each workshop. The practice was well received. I took it a bit further, introducing the possibility of three breath practices, as a way to shift one's state of being when they became aware of stress.
With the teachers, I wondered if they might try to bring that quiet into their classrooms. A video shared with me the day after our workshop suggested otherwise. It was a short clip of a teacher trying out the monster/victim exercise in his classroom. The practice, developed for a CWB Burma project, offers the kids a chance to have great fun reacting with playful/funny fear (enjoy being afraid!) to a supposed monster scaring them.
In the video, the teacher has taken on the monster role and the kids are fully enjoying his absurd monster-like attempts to scare them. They scream in playful fear, followed by collective gleeful laughter. Then as the students transform into monsters, switching roles according to the game's design, their eyes fill with mischievous delight. As the posse turns on the teacher, the video suddenly cut off! Uh oh, what kind of mischief did I instigate?
Only the nose knows…
 Moshe Cohen is a Purveyor of Sacred Mischief and Closhi of the Order of Disorder