Playing with Great Wisdom: A Heart Sūtra Series
Led by Rev. Jitsujo T. Gauthier

4-classes via Zoom: 9:45 – 11:00am (PST)
Saturdays: Aug 14, 28; Sept 11, 25
---
CLASS INFO
The Heart Sūtra (Prajñāpāramitāhṛdaya प्रज्ञापारमिताहृदय or Xīnjīng 心經 ) is a Mahāyāna Buddhist text know to have originated in 7th Century China. Innumerous people have since hand-copied, chanted, recited, and painted the Heart Sūtra. As part of the Soto Zen tradition, we chant the Heart Sūtra at ZCLA during daily services. Such ritualized methods of recitation and memorization integrate seamlessly into daily life, permeate the bones, and allow this Perfection of Wisdom to deeply resonate.
The Heart of the Perfection of Great Wisdom Sūtra is right here — efficacious for all who engage with it!
What do I illuminate? What obstructs my view? Who supports my journey?
How would it feel to let my fear dissolve into thin air?
What mud has helped me blossom?
What helps me restore balance?
How is impermanence fun?
This class will utilize the paintings of Japanese artist Iwasaki Tsuneo (1917-2002) along with the writings and guiding questions of contemporary Buddhist scholar Paula Arai. The 1-hour and 15-minutes class sessions every other week will consist of a meditation on one of Iwasaki Tsuneo's paintings, recitation of the Heart Sūtra, a 20-minute teaching followed by group sharing, Q&A. During the two-month course participants will be asked to create a personal ritual of recitation and memorization to connect deeply with the Heart Sūtra, fun, and wisdom.
The class will use Painting Enlightenment: Healing Visions of the Heart Sutra by Paula Arai. Having the book is not a prerequisite for the class, but those who want may purchase their own copy: https://www.shambhala.com/painting-enlightenment.html
---
CLASS FEE
Fee: $40 for the Series (or $20 per class) for Members; $60 for the Series (or $25 per class) for Non-Members
---
CLASS INSTRUCTOR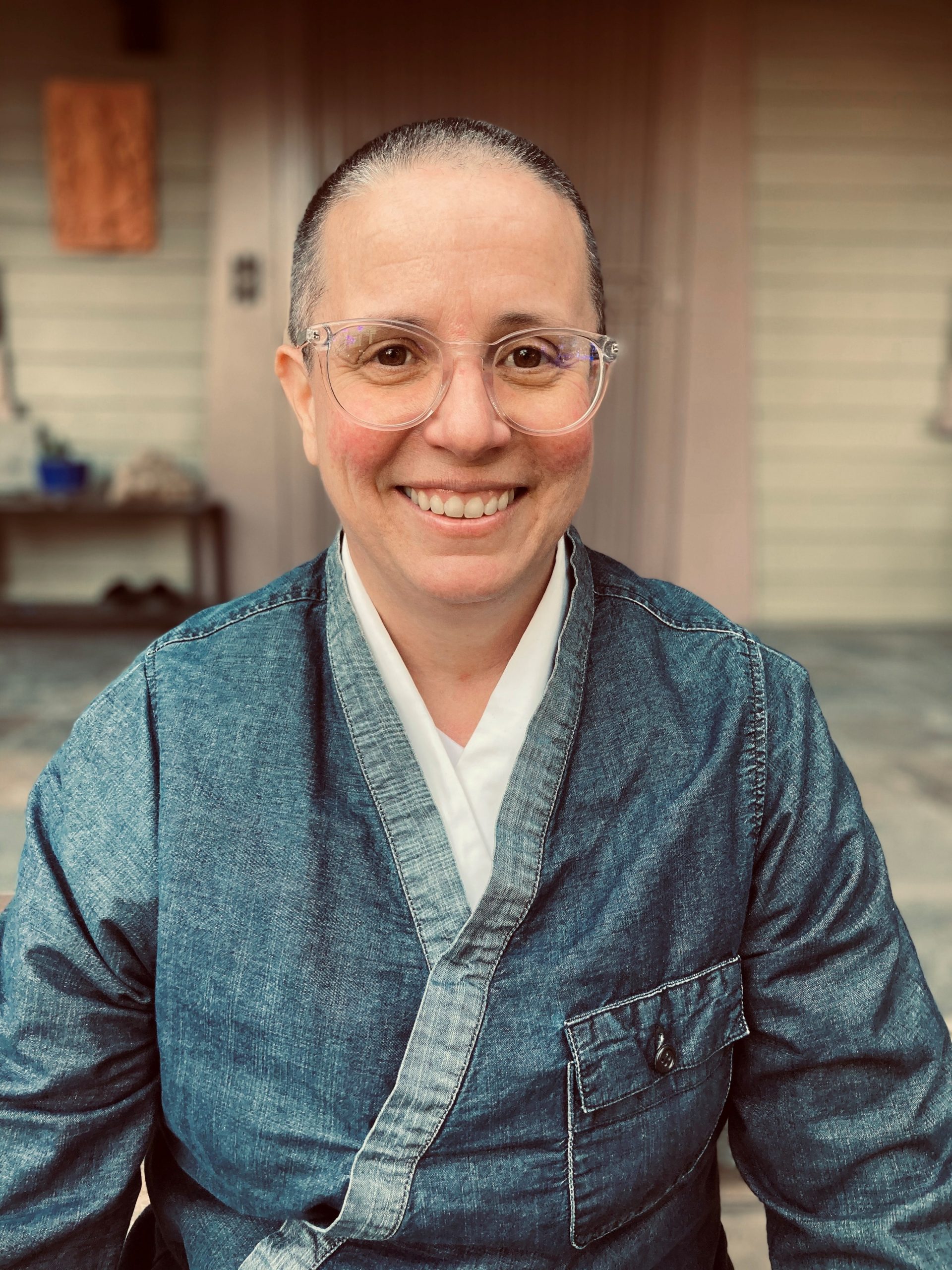 Jitsujo T. Gauthier is a Zen priest, preceptor and Dharma Holder at the Zen Center of Los Angeles, as well as a member of the Zen Peacemakers International. She is also an Assistant Professor and current Chair of the Buddhist Chaplaincy department at University of the West in Los Angeles county. She explores and practices of the Three Tenets in the classroom, chaplaincy work, as well as within seated meditation.
(If you have any questions, please contact programsteward@zcla.org)
---
HOW TO REGISTER