Teachers


Sensei Merle Kodo Boyd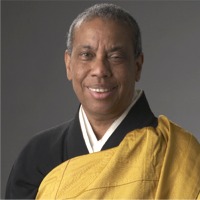 Sensei Kodo began sitting in 1985 when she saw a 12th century Chinese painting called "The Solitary Angler" in the book, The World of Zen, and immediately recognized herself in every aspect of the painting. After a few years of practicing alone at home with the guidance of Dharma books, she ventured out and found a sitting group led by Sister Janet Richardson. She received Jukai in 1994 and Priest Ordination in 1996 from Roshi Sandra Jishu Holmes. After Roshi Jishu's death, Kodo continued her practice with Roshi Egyoku, from whom she received Preceptor Transmission in 2002 and Dharma Transmission in March 2006.
Kodo is African-American and was raised in the deep South in a Christian home and community. During the years between leaving home and beginning the practice of Zen Buddhism, she had no particular religion. She has worked most of her life as a clinical social worker practicing psychotherapy and is now retired from that profession. She is married and has one daughter who lives in Texas.
Currently, Sensei Kodo serves a small sangha, the Lincroft Zen Sangha, in suburban Monmouth County, New Jersey. She is also active in interfaith explorations in her community.
---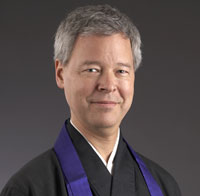 Sensei Kipp Ryodo Hawley
Sensei Ryodo joined ZCLA in 1980 and received Jukai from Maezumi Roshi in the following year. Since 1999, he has been assisting Roshi Egyoku Nakao as a lay teacher. Ryodo was empowered as a Dharma Holder in 2003 and received Dharma Transmission in June 2007. He has had a life-long interest in the spiritual path, beginning with his readings of the Tao Te Ching at age eleven, The Religions of Man by Huston Smith, and Philip Kapleau's The Three Pillars of Zen, which sparked his interest in Zen.
After attending the composition program at Berklee College of Music in Boston, where he also studied Philosophy of Religion under Dr. Peter Kreeft, Ryodo spent many years as a professional musician. Since 1988 he has made a living as a software developer, winning PC Magazine Editor's Choice award for his groupware application "TeamTalk" along the way. Ryodo currently serves as ZCLA's webmaster, while continuing his career as an IT consultant. He lives in Westchester with his wife and son.
Sensei Ryodo leads the Westchester Zen Circle, an affiliated sitting group near Los Angeles International Airport. He also offers workshops on Zen Mindfulness, which he originated in 2002, and is the author of Three Steps to Mindfulness: Bringing Zen Awareness Into Your Life.
---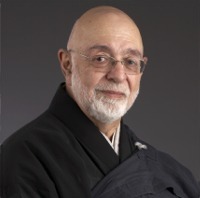 Sensei John Daishin Buksbazen
Sensei Daishin was born in London, England, to a Jewish-Christian family of Eastern European backgrounds. He began Zen practice in Philadelphia in 1967, receiving both lay and Priest ordination in the Korean Chogye Order of Zen from the Venerable Seo Kyung-bo. He later practiced with (then) Maezumi Sensei at ZCLA, where he was in residence until 1979. He served as pastoral counselor, and was publishing editor of the ZCLA Journal and the Zen Writings Series. In 1999, Daishin renewed his Priest vows with Sensei Yoshin Jordan, and returned to ZCLA to study with Roshi Egyoku. In 2003 he received Preceptor Transmission and was empowered as Dharma Holder, and subsequently received Dharma Transmission in June 2008.
Sensei Daishin has a Psy.D. in Psychology from the Southern California Psychoanalytic Institute. He is a licensed Marriage and Family Therapist with a private clinical practice. He leads an affiliated sitting group, the Ocean Moon Sangha, in Santa Monica and teaches Buddhist psychology and zazen to mental health professionals. Daishin is the author of To Forget the Self: An Illustrated Introduction to Zen Meditation (Center Publications, 1977) and Zen Meditation in Plain English (Wisdom, 2002) and is co-editor with Roshi Egyoku of the On Zen Practice collection (Wisdom, 2002 and 2006). He is married to Concetta Getsuren Alfano, a Zen practitioner, psychoanalyst and co-founder of the Center for Mindfulness and Psychotherapy. Daishin has one son.
---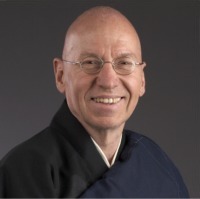 Sensei Raul Ensho Berge
Sensei Ensho was born in Buenos Aires, Argentina, to a Jewish-Christian family that had fled Nazi Germany. As a young man, he immersed himself in political activities, including union activism and state government. He fled Argentina a year after the military coup of 1976, eventually finding his way to Los Angeles.
In 1986, Sensei Ensho underwent a profound spiritual crisis and, as a result, landed at ZCLA in a meditation class led by Ryodo Hawley. The next week, he attended a retreat at Zen Mountain Center in Idlywild, CA, led by Maezumi Roshi. During this time of crisis, Gesshin Prabhasa Dharma Roshi and Genpo Merzel Roshi were also instrumental in guiding him. In 1987, he became a resident trainee at Normandie Mountain and received Jukai from Maezumi Roshi in 1994. His spiritual journey has included bearing witness to the concentration camps in Europe, including Auschwitz-Berkinau.
In 1998, Sensei Ensho ordained as a Zen priest with Roshi Egyoku Nakao. In 2003, he received Preceptor Transmission, in 2006, became a Dharma Holder, and subsequently received Dharma Transmission in May 2009.
Sensei Ensho works as a court interpreter in Los Angeles County. He has one daughter.

---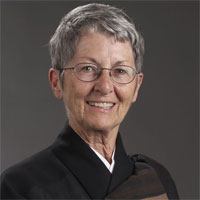 Sensei Patricia Shingetsu Guzy
Sensei Shingetsu was born in Bournemouth, England, into a musical performing family. She took to the stage when just 3 years old and continued professional singing throughout her school years. Shortly after graduation from high school, Sensei Shingetsu traveled to the United States where a temporary adventure turned into a lifetime stay. Employed as an Occupational Therapist for over 20 years, she is now retired.

Deeply spiritual from childhood, Sensei Shingetsu separated from the Catholic Church after her divorce. Her abiding passion for a spiritual path led her to Zen in 1989 at the interfaith conference, Harmonia Mundi, where she had an opportunity to sit with Maezumi Roshi. She joined ZCLA shortly thereafter. In 1993, she received jukai from Maezumi Roshi. In 1999, she ordained as a Zen Priest with Roshi Egyoku. In 2006, Sensei Shingetsu received Precept Transmission, was empowered as a Dharma Holder in 2006, and subsequently received Dharma Transmission in May 2009.
Sensei Shingetsu has hosted the Valley Sangha sitting group since 1992 and often works with the San Fernando Valley Interfaith Group. She has one adult son.
---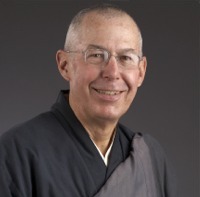 Sensei Gary Koan Janka
Koan began his Zen Practice at ZCLA in March of 1973 as a result of a talk given at U.C. Santa Barbara by Sensei Daishin Buksbazen. He received Jukai in August of 1982 from Maezumi, Roshi and received Tokudo from Egyoku Nakao, Roshi in November, 1998, and moved to the Center as a full-time resident in order to intensify his practice and studies with Egyoku Roshi in 2003. He received Denkai in July of 2006 and became a Dharma Holder (Hoshi) in August of the same year. On the 16th of October, 2010, he received Dharma Transmission (Denbo) from Egyoku Roshi at ZCLA.
Koan received his bachelor's degree in Sociology, specializing in research methodology, in 1974. In 1997 he completed his PhD in Human & Organizational Behavior from the University of California at Santa Barbara.
Prior to coming to the Zen Center, Koan had a full, forty-five year career in management and organizational work, both as a mid-level manager and as an organizational consultant. He also served one year as the General Manager of the Upaya Zen Center in Santa Fe, New Mexico and two years as the Executive Director of the Peacemaker Community under Roshi Bernie Glassman.
Family has also figured prominently in his life. Married for many years, he has three sons and two grandchildren.
Koan is very involved with the Angulimala Prison Circle, a small group of volunteers who serve as Buddhist Chaplains in the Los Angeles County Jails and the California Men's Colony in San Luis Obispo. Finally, in his spare time, Koan likes to plant and care for trees, mostly in the public domain. He serves as a Volunteer Forester for the Santa Barbara City Parks Department, and he also plants and maintains street trees in the neighborhood around the Center.
---
Rabbi Don Ani Shalom Singer Sensei
Rabbi Singer Sensei Founded Shir Hadash in 1981 as a contemplative community of friends open to the dialogue of life. He is a teacher of contemplative Judaism, ordained at Hebrew Union College. Currently, he leads contemplative retreats and study groups in Europe, Israel and the United States.
Rabbi Singer is a leading interpreter in the interface between Jewish Wisdom and Zen Buddhism. In 1994 he received Dharma Transmission from Roshi Bernie Glassman. Rabbi Singer is the first Rabbi who became a Sensei in the Buddhist Tradition.
---
For the Statement of Ethics for ZCLA Teachers, click here.
---