Books, DVDs and CDs


Featured Publications
---
Maezumi Roshi Archive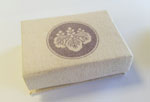 Recorded talks by Maezumi Roshi and his teachers Koryu Roshi and Yasutani Roshi. These include complete teisho as well as shorter talks such as jukai comments, shosan and sesshin closing remarks. Most of Roshi's teaching career at ZCLA is represented, from 1968 until 1995.
---
ZCLA Legacy
Dairyuzan Busshinji, Great Dragon Mountain Buddha Essence Temple
The book ZCLA Legacy is a tribute to the Venerable Koun Taizan Maezumi, Roshi, and his legacy as the founding abbot of Zen Center of Los Angeles. Photographs from the ZCLA archives, many of which have not been seen by a new generation of practitioners, capture his life and work in establishing Zen Buddhism in the West. The photos, together with a brief text, provide an intimate portrait of Maezumi Roshi's teachers, family, and life's work, and the temple and teaching lineage of ZCLA. The book was produced on the occasion of the founding of ZCLA's Legacy Circle in 2009.
To preview and order click here.
By the end of March the book will be available in the ZCLA bookstore, so you can save the shipping costs.
---
Appreciate Your Life: The Essence of Zen Practice
by Hakuyu Taizan Maezumi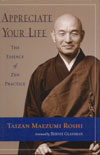 Foreword by Bernie Glassman
144 pp., $21.95
The first major collection of teishos by Maezumi Roshi, founding abbot of the Zen Center of Los Angeles and Zen Mountain Center.
Experience his "brilliant, simple, infinitely subtle appreciation of this precious life" and the unique teaching style that drew thousands of Dharma students to him.
---
We have more items for sale at our Online Store!